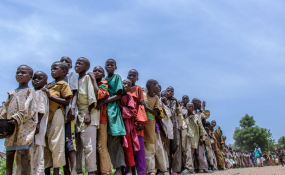 Photo: UNICEF/Andrew Esiebo
By Olayemi John-Mensah
More than half of Nigerian children under the age of five risk both physical and mental development because they lack Early Childhood Development (ECD) support, a global United Nations Children's Fund (UNICEF) report has stated.
Launching the report during the National Early Childhood Development Conference 2017 with the theme, Investing Early in Every Nigerian organised by the Federal Ministry of Education in conjunction with UNICEF and the World Bank, UINCEF representative, Muhammed Fall said, the report revealed that Nigeria is putting its children at risk of under-development, both physically and mentally, because critical national policies are not providing an adequate foundation for their growth.
He said, what we call ECD, which includes physical and cognitive support, has a strategic place in the achievement of the Sustainable Development Goals adding that investing in ECD including services to support caregivers, quality pre-primary education and good nutrition will help to secure healthy and productive future generations in Nigeria.
Fall also said supporting exclusive breastfeeding, having good Early Childhood Development policies in place will help to improve the overall health and nutrition of a child, enable parents and caregivers to be more responsive to children's needs, provide greater safety and security and also provide improved early learning.
"During the first years of a child's life, the brain grows rapidly; providing good nutrition, loving care and appropriate play provide solid foundations for a child's learning and eventual contribution to economic and social growth. With 90% of a child's brain development occurring before the age of five, early childhood experiences can have a profound impact on a child's development which can ultimately impact a country's growth.
The report; "Early Moments Matter for Every Child", outlines three policies that can give parents the time and resources needed to support their young children's healthy development. "The recommended policies are: two years of free pre-primary education; six months of paid maternity leave; and four weeks of paid paternity leave. Nigeria currently has just three months of paid maternity leave, only one year of free pre-primary education and no paternity leave at all. Only about one in every 10 pre-primary children are enrolled in early education activities."
He said UNICEF is committed to work with FG of Nigeria, CSOs, development partners, private sectors, families and communities to increase support for the young children through the existing communities system building on the positive practices that already exists.
"Our aim is that all Nigeria children across the country have the better start to life using evidence based implementation strategy as a support for national priority achieving the SDGs for child survival, growth and development."
Fall listed five impart area that UNICEF would be focusing on their next programme cycle to include; early learning which reduce the number of out of school children and increase the capacity to read and to learn, revatilisation of routine immunization, support for women to make empowered decision regarding their own health and their children including during pregnancy, delivery of high impart nutrition and sanitation services to reduce stunting and boost quality development area and to support positive parenting policies
The Minister, Federal Ministry of Education, Adamu Adamu represented by the permanent secretary in the ministry Sunday Echono said, it is common knowledge that ECD in the life of a child is as crucial and fundamental as they greatly influence their personality in the early stage of life.
He said research has shown that ECD has a lot of benefit to academic achievement, educational progression and attainment in life adding that it is therefore imperative to invest in ECD in other to have all round citizens.
"It is a critical tool for the social, technical and economic development of any nation. It is also the best weapon against disease, poverty and ignorance and indeed the only sustainable legacy a child can get from his or her country. We must therefore invest in it."