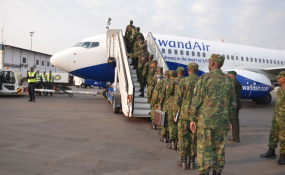 Photo: The New Times
Rwanda Defence Forces yesterday completed the deployment of additional 140 troops to reinforce the UN Multidimensional Integrated Stabilisation Mission in the Central African Republic (MINUSCA).
The newly generated motorised infantry company under the command of Maj Steven Semwaga, left Kigali International Airport, at around 9:30am.
The deployment started with airlifting contingent owned equipment on September 16.
On behalf of the RDF Chief of Defence Staff, Brig Gen Wilson Gumisiriza, the Head of Peace Support Operation at RDF Headquarters, urged the peacekeepers to be good "ambassadors" of Rwanda and keep in mind their core mission of protecting civilians.
"Always be guided by RDF values and discipline, observe the UN principles that include neutrality and impartiality; and safeguard the good image of Rwanda by performing your mission at high standards," he said, according to a statement.
Following the United Nations' request, the Government of Rwanda accepted the deployment of additional force of one motorised infantry company on top of the already deployed Infantry Battalion deployed in Bangui, it said.
Motorised troops use "soft" skinned vehicles to shore up infantry in combat zones.
The additional force was requested by MINUSCA to reinforce its operations and address security challenges in CAR.
Rwanda, one of the world's largest contributors of peacekeepers, first deployed peacekeepers in CAR in 2014.
Currently, RDF maintains one Infantry Battalion and a Level Two Hospital under MINUSCA. Rwanda troops are specifically charged with providing security for high-ranking government officials and securing key state installations.