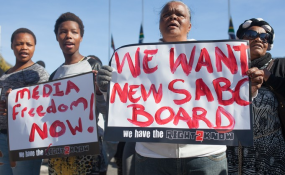 Photo: Ashraf Hendriks/GroundUp
President Jacob Zuma is "still considering" the 12 names recommended by Parliament to fill non-executive posts on the SABC board - despite the interim board's term expiring on Tuesday.
Zuma's office on Tuesday said he had not yet made a decision on the 12 candidates for permanent board posts, received from the National Assembly three weeks ago on September 5.
The six-month term of the 5-person interim SABC board will expire on Tuesday.
"The president has thanked the outgoing members of the interim board for their service and contribution to the governance of the public broadcaster," a curt statement read.
It was not immediately clear how the SABC would function without an appointed and quorate board. Until Zuma announces a decision, day-to-day operations will likely be left in the hands of the three acting chief executives.
SABC spokesperson Kaizer Kganyago and Communications Minister Ayanda Dlodlo, who was in a meeting, could not be reached at the time of publication on Tuesday.
SABC posts R977m loss in 2016/17
The SABC posted a R977m loss after tax for the 2016/17 financial year, its annual report tabled in Parliament on Tuesday revealed.
The public broadcaster's net loss for the year ending March 2017 more than doubled from R412m in 2016, following a year of upheaval that included the dissolution of the previous permanent board in late 2016.
Revenue declined from R8.1bn in 2016 to R7.6bn, representing a 6% year-on-year decrease.
Advertising also dropped 5% to R5.6bn, in a year that saw former chief operating officer Hlaudi Motsoeneng implement the 90% local content policy.
Sponsorship revenue declined by 18% to R384m, while TV licence revenue decreased 7% to R915m.
Operational expenses remained the same at R8.6bn.
The report also said that the SABC had a cash balance of R82m, representing a net outflow of R800m since the previous year.
"The fact that operational cash was used to fund capital expenditure projects, the cost of delivering on broadcaster's public service mandate and the rising cost of sports rights contribute to the pressure being placed on the organisation's cash reserves," the report reads.
Turnaround
An interim board was appointed by Zuma on March 26, 2017, following a lengthy parliamentary inquiry process that laid bare the dire financial and operational hardships at the SABC under Motsoeneng.
The interim board, led by interim chairperson Khanyisile Kweyama, made inroads into turning the beleaguered broadcaster around and has been praised by both the portfolio committee on communications and standing committee on public accounts.
The 12 new candidates include all five interim board members.
The candidates are: Michael Markovitz, Khanyisile Kweyama, Mathatha Tsedu, Nomvuyiso Batyi, Rachel Kalidass, Victor Rambau, John Matisonn, Jack Phalane, Krish Naidoo, Febe Potgieter-Gqubule, Dinkanyane Mohuba and Bonbumusa Makhathini.
The board needs nine members, which can include the three chief executives, to be quorate.
They will serve for a five-year term.
Source: News24