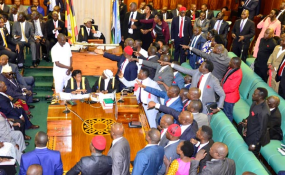 Photo: Alex Esagala/Daily Monitor
opinion
By Wilber Sabiiti
Recently, MP Robert Kyagulanyi used social media to call upon Ugandans to rise and defend the Constitution. Shortly after, a counter message from unknown author appeared ridiculing Mr Kyagulanyi's appeal as mere words, which cannot change President Museveni's stance. In short, the author alludes to violence as the only language that Mr Museveni understands. I disagree with the author. God forbid that Uganda should ever again plunge into bloodshed.
Violence does not achieve the desired outcomes. But equally, no one should preside over a situation where citizens are left with no choice, but to resort to violence. I am one of those people who believe and trust Mr Museveni to have the heart to listen to words of wisdom. Words are more powerful than guns; they change hearts and minds and live forever. Indeed Mr Museveni's words of the 1986 liberation speech and further articulated in books, Africa's Problems and Sowing The Mustard Seed remain alive today and will continue to be reflected upon for better or worse for many years to come.
Like many Ugandans, I love Mr Museveni so much that I want to see him retire peacefully as an elder statesman. The lion takes pride in killing the prey and then standing aside in defence as the cubs enjoy the meal. The happiness of a true freedom fighter is not in enjoying the freedom himself, but in seeing the citizens, the sons and daughters enjoying the fruits of the freedom that he or she fought for. I agree in principle that Mr Museveni is working for his children and grandchildren. This is true for every responsible man and woman to work hard for a better future of their offspring. However, I am sure he agrees with me that as President and 'father of the Ugandan family', his responsibility goes beyond his biological children and grandchildren.
This means, Mr President, that your decisions and actions must be taken with great care because they can either build or break Uganda. Mr President, why are the Nyekundiire (self-motivated) group of Parliamentarians luring you into amending Article 102(b) of the Constitution? Why don't you tell them not to waste their energy or resist them as you did on other legislative debates like the one on oil? Why not tell them that this is not the bread and butter for Uganda now as you alluded to a couple of months ago when the public started talking about age limit removal from the Constitution. The Nyenkundire say that they aren't doing this for you, but then they say it is a crisis as they must review the Constitution as required in the 2016 Supreme Court recommendations.
For heaven's sake, Article 102(b) is not among the recommendations made for review. So when did it become an urgent matter, a crisis to say the least? Amendment of this article was not urgent in 2005, 2011 and 2015, so why is it urgent in 2017? Please tell the Nyekundiire to save their legislative time and energy for reforms that will enable Uganda to attain the middle-income status in 2020 as promised, transform Ugandans from dying of hunger to prosperous vibrant citizens and strengthen the Electoral Commission and make it more independent to deliver free and fair elections.
The primary interest of all Ugandans is having a functioning State that guarantees security, ensures the best service delivery, justice and meritocracy, fostering environment where aspirations and creativity flourish, and where people serve and retire honourably with appropriate rewards for their service. Mr President, if it wasn't for merit you wouldn't have made it to the University of Dar es Salaam. Aren't you concerned that today, a child of your background, who knows no body, cannot afford a bribe, can hardly secure such a scholarship?
Aren't you concerned that many young graduates are roaming the streets without a job. Please don't blame it on the courses they did, and whether the courses aren't relevant to the economy is a debate for another day. They are asked to create their own employment, great, but how if the environment is prohibitive, and hinders fair play?
Mr President, you have done your best, inspired us to work hard and opened the Ugandan economy. We love you and want to see you honourably retire as a statesman giving counsel to Uganda as it transforms from low to middle income country. There is life after presidency!