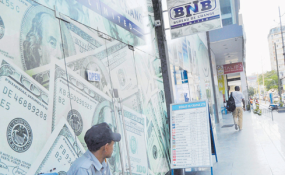 Photo: Omar Fungu/The Citizen
By Tumsifu Sanga
Dar es Salaam — A number bureaux de change have closed business in Dar es Salaam, three months before new licensing requirements come into effect, The Citizen has learned.
At least ten foreign exchange bureaus have not opened for business in Dar es Salaam alone for about three weeks now, but insiders say the number could rise to at least 100 countrywide as the deadline for implementation of the licensing requirements approaches.
Forex shops that have not opened for business at the city's central business district include Ruby, Maddy, Europa, Money Link, Nana and Tungwe. Several more are reported to have not opened for some time in Kariakoo and other locations. However, The Citizen could not independently confirm whether the closure was permanent or temporary and whether it was a result of the new requirements.
Bank of Tanzania (BoT) director of bank supervision Kennedy Nyoni told The Citizen yesterday that at least seven bureaux de change had already notified the regulator (BoT) of their intention to close business. He declined to name them.
A bureau de change operator who preferred anonymity told The Citizen yesterday that the new licensing conditions were too stringent for most operators to meet, and estimated that up to 100 may close business as the December 31 deadline approaches.
"In fact, some of us are only here because we still have contracts with landlords for the premises from which we run our businesses. As soon as our lease agreement expires, we will also be closing," he said.
He added that the requirement that one should have at least Sh300 million unrealistic since one could easily earn at least Sh8 million in three months by depositing the same amount in a fixed account at a commercial bank.
"Why would one need to go through a cumbersome process of sourcing Sh300 million and then pay rent and tax and employ people at this time when the business environment is not good? Why not put that money in a fixed deposit account at a commercial bank and enjoy the interest without sweating for it?" he asked. But in a swift rejoinder, BoT governor Benno Ndulu told The Citizen yesterday that the requirements were here to stay. "All operators have been notified of the changes made on capital requirement and are expected to be in full compliance before the deadline," Prof Ndulu said.
BoT revised the rules for operating retail foreign exchange bureaux in the country in June as part of a wider crackdown on down on money laundering.
The bureaux have been blamed for capital flight and money laundering by some senior government officials.
BoT raised minimum capital requirements for bureaux de change, suspended licensing of new bureaux de change and directed existing foreign currency retailers to apply for new licences.
"The minimum capital thresholds have been revised from Sh100 million to Sh300 million for class A (bureaux de change) and from Sh250 million to Sh1 billion for class B," the central bank said in a circular dated June 21.
On August 28, BoT extended the deadline for operators to meet the requirements from September to December.
The circular to that effect, which The Citizen has seen, reads in part: "This is to inform all operating bureaux de change that the BoT has exceptionally extended the period for bureaux de change to apply for re-licensing up to 31st December 2017."
The circular also reminded operators to ensure that they strictly comply with the new minimum wage requirements. According to BoT, at least two-thirds of the required minimum capital should be in the form of cash as working capital.
BoT has also directed bureaux proprietors to authenticate the source of funds invested in their businesses and doubled the non-interest bearing deposit to $100,000. The deposit is held at BoT as security for money transfer transactions.
The central bank also directed forex bureaus to tighten security at their premises and ensure that no person becomes a shareholder, director or member of management or staff in more than one bureau.
Additional reporting by Rosemary Mirondo