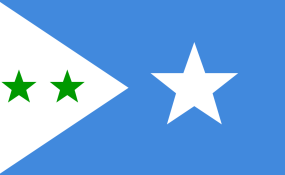 Photo: Robo-Diglet/Wikipedia
Members of Galmudug state Parliament have called for the arrest of the individuals plotted Tuesday's failed coup to oust President Ahmed Dualle Geelle Haaf.
The lawmakers have held last night an emergency session chaired by Ali Hareed Ali, the first deputy Speaker of Galmudug legislative body that was discussed the escalating political turmoil in Adado city.
While speaking to Radio Shabelle over the phone, Nur Ali Sahal, a lawmaker said the MPs could not file a motion against the President as he serves less than 6 months, in accordance with the state constitution.
It was the 1st time that a number of legislators of Galmudug state assembly to hold a session in Adado since the disagreement between the top leaders of the Somali Federal state emerged last week.
The dispute began after President Haaf has issued a statement, announcing that he sided with Saudi-led coalition against Qatar, while he was on visit to the United Arab Emirates (UAE).