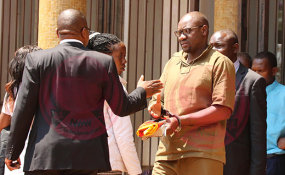 Photo: New Zimbabwe
By Mary Taruvinga
Harare — Anti-government activist and cleric, pastor Evan Mawarire, was freed Tuesday after magistrate Elijah Singano ruled that he was illegally before the court.
This followed a successful application for refusal of placement on remand by his lawyer Harrison Nkomo who arguing that his client was over detained beyond 48 hours as allowed by the constitution.
"The clock started ticking the moment he was advised of his charges. This was done Sunday afternoon as such accused is entitled to immediate release," said Nkomo.
"It is not in dispute that he was arrested on Sunday only to be brought to court today (Tuesday) after the 48-hour period has lapsed.
"No explanation can be accepted by this court and the police should not the blame on High Court or prisons because they are one department."
The investigation officer, detective assistant inspector Martin Masenda, blamed the prison service, saying the cleric was no longer in his custody as from Monday morning following High Court proceedings held that day relating to a separate case.
Under cross examination, Masenda told court that he could not prioritise magistrate court's business over the High Court because the former was an inferior court.
This was after Nkjomo suggested that the prosecution showed incompetence by failing to apply for a warrant of further detention so that it beats the 48-hour period.
He also suggested that police should have brought the cleric to court before the High Court business since proceedings started at 10 am on Monday.
Mawarire is on trial over similar allegations at the High Court.
He also has another case in which he is accused of inciting University of Zimbabwe students to embark on violent protests over fees hike.
According to prosecutor Tapiwa Kasema, on September 23 this year Mawarire visited several service stations within greater Harare which included Puma service stations along Nkwame Nkruma and Sam Mujoma where there were some fuel queues.
The State alleges Mawarire recorded a video of himself showing some vehicles queuing for fuels, thus inciting the general populace to revolt against a constitutionally elected government.
Court heard that on the same date, the video went viral on the social media platforms which are accessible to the entire world.
The State alleges Mawarire was inciting the public to basing on the issue of fuel and cash shortages in the bank and also goods price hikes in supermarkets.
It was alleged Mawarire's video is widely circulating on the social media and there is a potential that the video clip can lead to inciting people to revolt against the constitutionally elected government of Zimbabwe.
He was brought to court Tuesday around 4 pm when 48-hours of detention had lapsed.