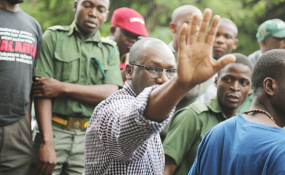 Photo: The Standard
Police on Tuesday grabbed anti-government activist, Pastor Evan Mawarire, from prison guards at Harare Remand Prison, the cleric's lawyers have confirmed.
Mawarire was Tuesday released from remand prison in a case where he is charged with inciting public violence after addressing University of Zimbabwe students protesting fee hikes.
His attorney, Harrison Nkomo, confirmed the arrest of his client by the police at Harare Remand prison.
"I am at the moment with him at the Prosecutor General's offices together with the police who arrested his late Tuesday morning," he said.
"It is my hope that they are going to take us to the Harare Magistrates' Courts this afternoon," Nkomo said.
The pastor was arrested on Sunday while preaching and is being charged with subverting a constitutionally elected government.
Mawarire's charges arose from a video he posted on social media last weekend urging Zimbabweans to protest against country's economic problems.
Meanwhile, his trial on the UZ address has been postponed to Thursday.