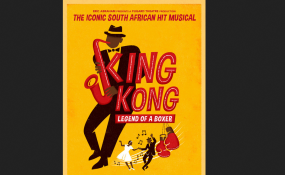 Photo: King Kong
analysis
By Paul Trewhela
The classic South African jazz opera, King Kong - presented in a new edition at the Fugard Theatre in Cape Town in July, and now showing at the Joburg Theatre until 8 October - is a metaphor of South African tragedy. It reflects the obverse of the country's great historic myth.
King Kong is a drama of failure, speaking to today through the music of Todd Matshikiza and the lyrics of Pat Williams with authentic, compelling force.
First presented 58 years ago to multi-racial audiences at Wits Great Hall in Johannesburg - two years ahead of the massacre at Sharpeville - its production today encapsulates the heroic overcoming of the apartheid system, followed by the breakdown of South Africa's polity, economy and moral order under the African National Congress regime of today's national ganglord, Jacob Zuma.
When I saw King Kong last Sunday - having seen the original when I was 17 - the downfall of the musical's Sophiatown boxer king, based on the real life champion Ezekiel Dlamini, it felt like the downfall of the liberation vision of Nelson Mandela eaten up by the corruption victory of the gangster boss, Lucky, played with terrifying effect by Joseph Mogotsi in...