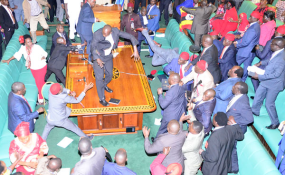 Photo: Alex Esagala/Daily Monitor
By Eronie Kamukama
Kampala — The chaos that erupted in Parliament this afternoon has polarised Ugandans.
Democratic Party president Mr Nobert Mao in a Facebook post said that today was a sad day in the country's history and stated that Ms Kadaga should resign. He argued that Ms Kadaga has dismally failed to protect the prestige, sanctity and independence of Parliament.
"We condemn in the strongest terms the invasion of parliament by the military in a manner most undignified. If the aim of the Speaker's order (unjustified as it was) was the suspension of the members, it could have been enforced in another manner without violence. The Speaker could have adjourned the house and simply denied the affected members access to subsequent sittings," Mr Mao said in his post.
Mr Mao insists Ms Kadaga's aim was not to enforce rules relating to Parliamentary procedure but to humiliate the MPs and subject them to torture and arrest.
Mr Erias Lukwago mayor of Kampala on his Facebook page said it is a dark day for Uganda. "It is a day that will live in the infamy, reminiscent of the 1966 crisis! My gratitude to the Red Ribbon MPS who resolutely faced the horrendous humiliation, torture and inhumane treatment. The emperor is now naked, nothing short of a reign of terror and rule of the jungle. The road to the promised land, where rule of law reigns supreme, is quite bumpy but I'm confident that we shall get there pretty soon," Mr Lukwago said.
Ordinary Ugandans posted their fears on the events, with some of them wondering what lies ahead.
"I do not know what is next after this, let us pray for each other," Mr Thomas Ssekaddu wrote on the Daily Monitor Facebook page.
"You fought a good fight. Today I have shed tears thinking of what's ahead of us. Very Sad day," Ms Irene Sheila said.
Mr Darius Mutwazagye in his post said Ms Anite's talk about the army's support manifested today. "The magye (army) have shown their work as they said. Ugandans where are we heading? Kadaga what have you done to us? Remember we are just passing through this world," he said.
To some Ugandans the turn of events was expected. "When you oppose with anger, such scenarios are expected. Not surprised to see this happen," Mr Gideon Kasajja said.
On the other hand, Ugandans like Mr Josh Muhangi thought the Speaker was just enforcing what is right. "The speaker knows the rules of procedure which the opposition never studied when going to parliament," he said.
Community development officer who uses account name Thomas Extrovert commended the Speaker's move. "Good work done by speaker," he wrote.
The comments come was after a ruling by Speaker of Parliament Rebecca Kadaga to suspend State Minister for Water, Mr Ronald Kibuule and 24 legislators for allegedly participating in the Tuesday row that morphed into a violent fight.
Parliament session came to a standstill after the suspended members of Parliament refused to vacate the chambers as directed. This prompted security officers dressed in suits to storm the Chambers and forcefully drag MPs like Mr Robert Kyagulanyi and Mr Allan Ssewanyana out.
Thereafter the Speaker allowed Igara West MP Raphael Magezi to table the age limit motion which was seconded.