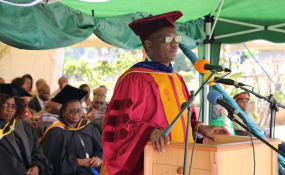 Photo: New Zimbabwe
The Constitutional Court (ConCourt) has dismissed an application in which deputy higher education minister Godfrey Gandawa sought to interdict his prosecution for fraud.
Gandawa and his boss Professor Jonathan Moyo are accused of swindling close to $500,000 from the Zimbabwe Manpower Development Fund (Zimdef) - a department in the higher education ministry.
Like Prof Moyo, Gandawa had approached the Constitutional Court challenging his arrest by the Zimbabwe Anti-Corruption Commission (ZACC) over the allegations.
On Wednesday, a full ConCourt bench dismissed Gandawa's application saying that it was improperly referred to the apex court.
Gandawa was represented by advocate Eric Matinenga.
"The questions that were brought before this honourable court were properly dealt with by the magistrates' court.
"In the result, it is ordered that the application be and is hereby dismissed with no order as to costs," read part of the ruling which was delivered by Justice Elizabeth.
A similar application before the same court by Prof Moyo's suffered the same fate last week.
Gandawa, Prof Moyo and a senior official are under investigations by ZACC for unlawfully benefiting from Zimdef cash between November 2015 and June 2016.
Prof Moyo denies any impropriety, maintaining he used the money legally to support Zanu PF activities and to buy bicycles for traditional leaders in his local Tsholotsho North constituency.