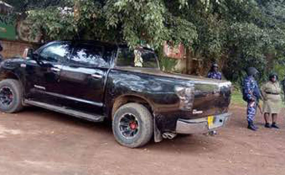 Photo: Daily Monitor
By Desire Mbabaali
Television personality Ms Justine Nameere has accused Kyaddondo East MP Robert Kyagulanyi Ssentamu aka Bobi Wine of reckless driving and "showbizzing" following Tuesday's events at Parliament.
Using her Facebook page, Ms Justine Nameere said: "You (Bobi Wine) were driving your Tundra at break neck speed, the boda men who were leading you and following you kept recklessly and rudely hitting people's cars... many people where affected... "
She further claimed that one of the boda bodas (in Bobi Wine's convoy) knocked a boda boda carrying a pregnant woman. Ms Nameere emphasized that she has nothing against the MP and was only condemning the act as unnecessary and dangerous to other road users.
In the post, she reminded Bobi Wine of other MPs who have fought for Uganda and won elections with landslide victories like Gerald Karuhanga, Abdu Katuntu, Kasiano Wadri, Miria Matembe, Winnie Byanyima and Erias Lukwago, who never drove around showing off, but rather kept the fight intellectual.
She also warned him to forget "yes men and fanatics who will always say what you want" saying there is a 'silent majority' who note what he does and can love or hate him without making noise.
Bobi Wine has so far not written anything on his social media pages in response to the accusation. However, it has sparked a line of mostly angry and abusive comments from people on Facebook, who have called Ms Nameere a hater and a coward. Silas Cyrus asked: "What would you expect from her stupid mouth?" while Nancy Proccie commented that Ms Nameere is "another Abiriga".
Liane Shee asked Ms Nameere if she was interested in other things in the country of national interest. "How about the Entebbe murders, have you made a report yet? The reckless and rude arrest of Erias Lukwago (Kampala Lord Mayor), I guess you are writing about it as well... don't get us off truck instead, look for a red ribbon, or else sit down and be humble."
Although most of the comments were insulting Ms Nameere, a few people came out to support her. Ms Hope Murungi for example, commented: "Whoever was in that truck... that's not the way of driving on public roads!!!" while Naija Praiz said Ms Nameere is "such an intelligent lady. Have loved the politeness in passing your message dear Justine."