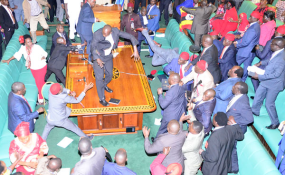 Photo: Alex Esagala/Daily Monitor
opinion
By Karoli Ssemogerere
This week, it was Rebecca Kadaga's turn to chair Parliament. Her deputy Jacob Oulanyah last week bravely steered the House to an adjournment after irate MPs attacked government for creating an atmosphere at Parliament.
The images from Tuesday depicted a wider schism that had many shocked faces inside the chamber, open brawling with Opposition MPs deep inside the NRM ranks and non-stop chants. The Speaker deserves a prize for picking half a second of space between the discordant notes of the National Anthem to adjourn the House.
What has been years of frustration broke into open discord.
Robinah Nabbanja, Woman MP (NRM, Kakumiro), who last week stated she had whipped up 291 MPs in Parliament to support the amendment of Article 102(b) of the Constitution, wryly stated she could not believe what she was witnessing was a government in waiting.
Ms Nabbanja, a former district councillor, represents the new political dispensation. She is energetic, not very sophisticated but steadfast in execution of what is required for the day. Other MPs in this group who have not behaved so well include Ibrahim Abiriga, Arua Municipality, Evelyn Anite, Koboko Municipality who appear ready to give as good as it gets given the chance.
Nabbanja's 291 votes a falls short of the two thirds majority needed to amend the Constitution seem to be like water kept in a reed basket. This week after tough consultations at home, she began leaking NRM votes across the country. As of today, three NRM MPs in the Tooro sub-region were voting No on the amendment, the members from Fort Portal Municipality, Kitagwenda County and the Woman MP from Kabarole. In Jinja, the MP from Butembe announced opposition. In Kigezi region, three MPs are likely to vote no, Ndorwa East, Rubanda and Kabale Municipality. In Mubende District, four NRM MPs are indicating no, including Anthony Semuli Mubende Municipality, a brother of the widow of Felix Kaweesi, former AIGP, who was violently gunned down in March 2017.
Ms Kadaga managed to steer the House for several hours longer than Jacob Oulanyah.
Placed against her predecessors Francis Butagira, Moses Kigongo, James Waphakabulo, and Francis Sekandi, she has been more of a traditionalist eager to protect the dignity and independence of Parliament.
The Opposition in this Parliament carries a lot more weight than its numbers suggest - just 65 MPs in a House of more than 400 MPs. President Museveni has benefited from this strategy cooperating with a number of these few MPs after openly announcing he will wash away all the Opposition parties.
Kadaga even as she wrote down the names of the MPs who were whistling in the chamber in open defiance of the chair also is playing her own cards close to her chest. She has refused to come out openly to state whether she is in favour of the proposed amendments. She is also looked at favourably as a possible candidate for president. If she decides to run and learning from the mistakes of former prime minister Amama Mbabazi, she cannot even start from the middle of NRM. The party hierarchy, structures that would have to back her candidature, are more or less in the hands of the incumbent and fused with organs of the state.
Ms Kadaga probably would have to start off much earlier within the political parties.
She is very close to Betty Amongi, the UPC MP and former head of the Uganda Women Parliamentary Association who is now in cohabitation with NRM. Her successor Monicah Amoding, the Kumi Woman MP (NRM) was the first to openly go amok in her own caucus over the proposal to amend the constitution.
These are likely to be Kadaga's foot soldiers in a "chap-chap" campaign to simply state it's time to go So as parliament degenerated into a melee, both Kadaga and Museveni were watching each other with temerity and viciousness waiting for the other to blink first.
Mr Ssemogerere is an Attorney-at-Law and an Advocate.