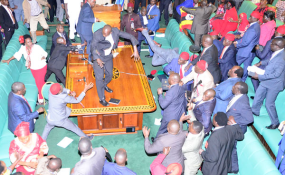 Photo: Alex Esagala/Daily Monitor
opinion
By Daniel K Kalinaki
It appears from press reports that President Museveni is not only interested in the move to amend the age limit clause, but is actively involved in the behind-the-scenes manoeuvres to do so. It is also clear, from the lock-down of Parliament and from the heavy military deployments, that the clause will be removed by hook or crook, and that the President intends to have his way lock, stock and barrel.
What isn't clear is why Mr Museveni, in power for three decades, wants another 5, 10, maybe 15 years, and what he hopes to achieve in that extra time. In the alphabet soup of electoral promises made over the years, one can find promises to professionalise the Army, create an East African political federation, and drive the country to middle-income status.
The first has been largely achieved - the Army is the most professional it has ever been although its highest echelons do not reflect the diversity of the country. Domestic ethnic fissures in Kenya and a new streak of nationalism in Tanzania, among other reasons, mean that the second is unlikely to happen in our lifetimes.
The third will happen, but not necessarily because of Mr Museveni - and one might even argue rather harshly - maybe even in spite of him. To see why we need to look at historic GDP per capita data for Uganda and compare it with Kenya, with which we share many similarities. Public data from the World Bank show that Uganda and Kenya had the same GDP per capita of $105 in 1965, which rose gently and in tandem until the mid-70s when the effects of Idi Amin's political instability kicked in. By 1976, Kenya's was $248 and Uganda's $220; by 1980, Uganda's had collapsed to $153 while Kenya, now under president Moi and no doubt benefitting from Uganda's problems, had risen to $446.
Things got interesting in the next decade.
By 1988, Uganda had caught up and overtaken Kenya, with a GDP per capita of $400 compared to $382. The reasons are not clear, but must include a relatively slower population growth rate in Uganda in the previous 15 years, the post-war recovery in the south of the country, and Kenya's own internal governance challenges.
By 1992, both countries had slumped: Kenya to $328, Uganda to $153.
The decade that followed saw political and economic reforms in both countries, including economic liberalisation and a new Constitution in Uganda, and the re-introduction of multiparty politics in Kenya. By 2002, Kenya's GDP per capita was $396, Uganda's $240. Yet by 2016 Kenya's had grown 267 per cent to $1,455, Uganda a more modest 156 per cent to $615, down from $719 in 2014. So what happened in Kenya?
As neighbouring countries, we can hold many externalities constant, including drought, terrorism and even political violence (Kenya 2007/8, Uganda 2006, 2009 and 2011). That leaves leadership and the management of society. In 2002 Moi, who had been in power for 24 years, stepped down and was replaced by Mwai Kibaki at the head of a coalition of political parties. Kibaki made large investments in transport infrastructure, first to get re-elected, and then for his legacy, then retired to his golf.
Uhuru Kenyatta has done the same and, if he wins another term, will be gone in five years. Kwisha. Finito.
The emergence of new leaders in Kenya with fresh ideas and dynamism was not enough; the knowledge that their time was limited allowed them to focus their energy and attention on getting things done, not on time travel. Two projects are illustrative: The 23-kilometre, four-lane Kampala Northern By-pass, in on-and-off construction since 2004, remains incomplete while construction of the eight-lane, 50-kilometre highway linking Nairobi to Thika started in 2009 and was completed in 2012.
Uganda discovered commercial oil deposits in 2006 and promised to have it flowing by 2009. A decade later, it is still in the ground. The Kenyans discovered a few barrels of oil in Turkana in 2012. Three years later, attempts to exporting some of it by trucks on the roads were only stopped by the laws of physics and market prices.
In Uganda, the same old leadership, despite its best intentions, remains distracted by the politics and patronage necessary to stay in power. And that is the dilemma: Mr Museveni wants to transform Uganda into a middle-income country, but three decades on, and as the data show, the easiest and fastest way for him to do it is to let someone else do it.
Like Alanis Morissette sang, isn't it ironic?
Mr Kalinaki is a journalist and a poor man's freedom fighter.
Twitter: @Kalinaki.