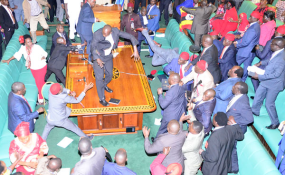 Photo: Alex Esagala/Daily Monitor
By Paul Adude
The Inspector General of Police Gen Kale Kayihura says he will not apologise for ordering Wednesday arrest of Opposition and Independent MPs at Parliament.
"I'm the one who commanded the arrest of the members of Parliament. I have nothing to apologise for," said Mr Kayihura during a press conference at Kasenyi landing site in the greater Entebbe.
On Wednesday, several MPs including those who were not suspended from the House but somehow got mixed up in the melee were roughed up by security officers for defying Speaker Rebecca Kadaga, inciting violence and assaulting police officers.
Gen Kayihura said police and their sister security agencies were only doing their work as they roughed up the MPs in Parliament.
"They (security officers) did their work professionally. They went in without guns and carried out the arrests as they were being hit by the politicians," he added.
The Police chief further noted that they carried out the arrests based on intelligence they received on Sunday about the MPs opposed to lifting of age limit planning to cause chaos in the city.
"There was security both inside and outside Parliament because we received intelligence that they wanted to burn Parliament and petrol stations in the city.
The MPs including Mathias Mpuuga, Theodore Ssekikubo, Monica Amoding, Barnabas Tinkasiimire, William Nzoghu, Joy Atim, Jonathan Odur, Peter Okot, Wilfred Niwagaba and Mukono Municipality MP Betty Nambooze among others were arrested but later released. The officers according to MPs, who spoke to this reporter, took photos with each legislator to prove that they delivered them safely.
With exception of two MPs (Francis Zaake and Angelina Osege who were still admitted on Wednesday, the whereabouts other members remain unclear. Some MPs called a news conference at Hotel Africana to condemn the raid on parliament and Ms Kadaga who suspended them.