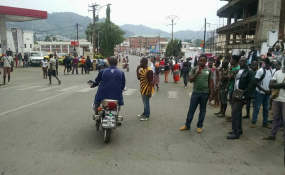 Photo: facebook
By Emmanuel Kendemeh
All continents in the world have witnessed secessionist movements that have had no future.
At the time the secessionists in the English-speaking North West and South West Regions of Cameroon is multiplying attempts to separate from the rest of the country, world history stubbornly indicates that such attempts in many countries across the continents of the world have yielded no fruits. The attempt to divide Cameroon comes at the time when countries are grouping themselves into subregional and regional blocks in order to face the growing world socio-economic and security challenges. Statistics indicate that some 40 countries in the world have lived secessionist moments without the countries finally breaking up. The separation drive from history has touched all nowconsidered great countries. The history of the United States of America reveals that since its foundation, eight secessionist movements have come up in different parts of the country seeking for independence. Canada, America's northern neighbour that has the English -speaking and French-speaking parts, has also been living the secessionist tendencies in Quebec. The will by the population to forge ahead in the one country Canada, was manifested in the 1995 referendum on the sovereignty of Quebec. Indeed, the separatist party in Quebec got trounced in the process. The African continent is rife with the history of separatist and secessionist tendencies attempts, indicating that living together ultimately thrives. A glaring example is the Biafra region in the neighbouring Federal Republic of Nigeria.
This South eastern part of Nigeria declared their independence in 1967 and this led to the unfortunate Biafran civil war of 1967 to 1970 in which the federal government subdued the secessionists for Nigeria to remain one country. Still in Africa fruitless secessionist tendencies have been witnessed in Senegal with the Casamence region trying to break away, Morocco with the case of Western Sahara and in the northern part of Mali with Azawad region. There is also the case of Angola in which the oil-rich Cabinda area tried to break away in vain Europe has not been spared from separatist tendencies but the countries concerned have remained one. The United Kingdom is a glaring example with Scotland that has even through constitutional means has not left the union. Venice that reunited with Italy in 1866 has also been unable to leave the union. In Spain, the Province of Catalonia with its own customs, traditions and Catalan language has been trying to break away from Spain. The attempt has yielded no fruits as Spain remains one.