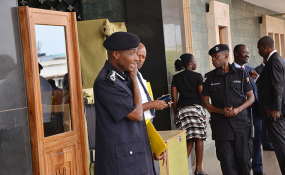 Photo: The Observer
opinion
By Rogers Munguacel
In 1995 when the current Constitution was promulgated, on the face, it had an appearance that promised permanency at least for some decades. Little did we know that nothing in Uganda can really be said to be certain except death, taxes and unemployment. Barely 10 years later, in 2005 to precise, term limit was lifted by the 7th Parliament.
Next is Article 102(b) that caps the age of a prospective president at 35 years and 75 years, which NRM is vowing to do away with too. I think NRM has now become a law unto itself with members of about 300 MPs sitting in a caucus and deciding for a population of more than 40 million people on a matter as sensitive as the Constitution. This is something that Ugandans must outrightly reject and condemn.
The anti-age limit legislators had all the reasons to rant and scream bloody murder and grouse about the proposal to amend Article 102(b). In the absence of term limit, age limit remains the only safeguard against life-presidency and dictatorial rule.
I find every bit of Evelyn Anite's remark, very ridiculous and far below the scope of a minister. She arrogantly swags of NRM's numerical superiority in Parliament and having the support of "magye" (army). What she doesn't seem to realise is that, this isn't just a contest between NRM MPs and the Opposition, but Ugandans generally. If we go numerical, does she know how many NRM subscribers are against this proposed Bill, let alone the rest of Ugandans? Anite's remark is just a banbury story of a cock and a bull. She is simply a lost ball in the weeds.
You don't have to be a rocket scientist to realise that Anite, Raphael Magezi and the Abirigas are eyeing this "project" as a cash-cow. It's very disheartening to know that we are living in a dog-eat-dog Uganda today, where greedy politicians can do anything to amass wealth at the expense of the Constitution to which they pledged allegiance and to protect and preserve. Anite particularly is known for being strategic at individual level, but without any conscience of nationalism.
Many people regard her ministerial appointment as a reward for championing the sole candidature of President Museveni in 2015 that froze out the then premier and NRM secretary general Amama Mbabazi.
If the intent of this unpopular Bill is not about life presidency of Museveni as Anite and Magezi insinuate, why focus on it now and not sometime later in the post-Museveni era? Why did they have to do this in two shakes of a lamb's tail? Why at the drop of a hat? Why the need for urgency?
Is it because toddlers and great grand parents have petitioned Parliament against exclusion? We are grappling with murder cases of women, unemployment, ailing health sector, landslide in Bududa District and all you do is prioritise lifting age cap? Come on, We have bigger fish to fry.
There was a reason why the framers of the Constitution placed the lower and upper age cap for presidency at 35 and 75. Museveni has been around for a Coon's age. Time surely takes a toll on everybody. I personally think President Museveni will be over the hill and too long in the tooth to command effective leadership come 2021.
We expect the President as the Fountain of Honour and chief custodian of the Constitution, to walk his talk, not to be a person of all hat and no cattle. In 1986, during his inauguration speech, he promised not to cling onto power for so long. I wonder if he does recall that.
Ugandans are not interested in a referendum. The integrity of the Electoral Commission that would oversee the exercise, is not above suspicion of majority Ugandans. If there is really need, then establish a Constitutional Review Commission that will bring to the table the subject and let Ugandans chew the cud. Don't lay down the law. Don't manipulate the Constitution just because it provides for amendment. Don't follow the letter of the law, but its spirit. Ugandans have worn their hearts on their sleeves, please heed.
As an ex-seminarian, the spirit of the Lord is still upon me. I thus prophesy that the role that Anite and Magezi have played will cost them their seats in 2021. Someone please come kiss my shoe. My prophesy is comparable to none. Not even Prophet Elvis Mbonye's.
Mr Munguacel is a student of University of Toronto, Canada, pursuing Masters in Financial Economics.
Twitter: @mungu1roger