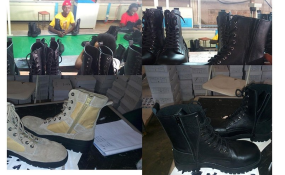 Photo: New Times
By Emmanuel Ntirenganya
A leather products factory that started operations in Bugesera District last year has potential to help reduce the country's import bill, the company executives and officials have said.
Currently, the factory produces leather and shoes but says it has plans to venture into other leather products as well.
According to information from the National Agriculture Exports Development Board (NAEB), the country exported over 6,700 million tonnes of hides and skins, fetching some $7 million (about Rwf5.6 billion) in 2016.
This means that a kilogramme went for about Rwf830.
However, almost all the finished leather and leather products used in the country are imported.
The new firm, Kigali Leather Ltd, located on the banks of River Akagera in Ntarama Sector, Bugesera District, about 12 kilometres from the capital Kigali, is owned by two Chinese nationals.
In an interview with The New Times last week, Kigali Leather Ltd managing director Yuan Wang said the factory buys a kilogramme of hides from local producers at $1 (about Rwf830).
The plant was constructed in 2014 and started making finished leather in 2016.
It produces between four and five tonnes of finished leather per day. But it has capacity to make up to 20 tonnes of leather a day.
He put the factory's worth at $8 million (about Rwf6.4 billion).
The factory employs more than 100 local staff, he said.
Wang said they, besides Rwanda, they were also eying regional and international market.
The factory makes between 200 and 300 pairs of shoes a day.
He said they intend to invest another $2 million in the factory between now and end 2018, which will partly help acquire a machine which can make other leather products such as handbags, furniture, couch, chairs, among others.
Annet Karenzi, the director general for Industry and SMEs and Entrepreneurship at the Ministry of Trade and Industry, hailed the investment, adding "it is good for the sector when we get investors going into processing."
"Value addition definitely makes a whole lot of difference as finished products fetch more revenue but also the small artisans that make shoes and other leather items can now access processed leather easily," she told The New Times.
High prices
Michel Habumugisha, a Nyabihu District-based shoemaker who heads the association of leather product makers in the country, told this paper that having a factory that produces finished leather in the country will save time and eliminate difficulty in importing the products.
However, he noted that prices for the locally produced leather is still high compared to the imported one.
"A square feet (a unit of measurement of hides with about 30 centimeters of length and 30 centimetres of width) imported from Kenya reaches Rwanda costing Rwf1,100, but a square feet of the locally made leather costs more than that," he said.
Kigali Leather Ltd says it sells a square feet at Rwf2,000.
"We hope local leather will be more affordable," Habumugisha said.
John Mfuranzima, the managing director of Star Leather Ltd, a community processing unit that makes shoes, belts and handbags from leather in Gatsibo District, said they have been importing leather for a while now adding he hoped domestically produced leather will be affordable going forward.
Steven Taifa, the Assistant deputy chief executive for Kigali Leather Ltd, who is also in charge of marketing, said their leather is sold at relatively higher prices due to the inputs required to produce it and its quality.
"The leather used to make jungle boots is not the same as that for ordinary shoes," he said, adding that when one buys in large quantities they are given a discount.
According to information from the Trade and Industry ministry, the hides and skins sector has potential to rake in billions in foreign exchange.
When processed into finished products, they can generate some $117 million (about Rwf97 billion).