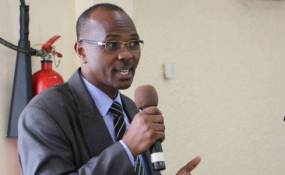 Photo: The Citizen
By Maureen Odunga
THE Ministry of Information, Culture, Arts and Sports has given seven days to media stakeholders to submit their views on the draft of the electronic and postal communications (content regulations) of 2017 and that of online content regulations.
Such a move was reached at by the Ministry's Permanent Secretary, Prof Elisante Ole Gabriel during a stakeholders' meeting on the draft of the Electronic and Postal Communications content regulations of 2017 and the Online Content Regulations in Dar es Salaam, yesterday.
According to Prof Gabriel technology is growing too fast and its advancement is taking the world to an undefined place which requires preparedness. "As a nation, if we do not devise regulations and laws that will govern the sector, then its tantamount to moving on the wrong side of the road.
It is the obligation of the Ministry to put in place regulations that will set a good vision in the management and supervision of the information sector," said Prof Gabriel. He observed that the contribution of key stakeholders is vital in coming up with regulations.
"We should have reliable systems that will supervise our local content and this will only be realized by focusing on the interest of the entire nation. There is no freedom without boundaries... the government respects the profession, therefore we should avoid producing content that may harm or disrupt the peace and privacy of others," noted the PS.
He further cautioned the media to be very sensitive with the nature of content being fed to the public. The media should know that news can be dangerous than a nuclear bomb.
The Ministry's Legal Officer, Mr Evod Kyando high lighted on some of the issues that have been emphasized on the Electronic and Postal Communications including the need to consider challenged persons and protection of children.
He pointed out that content of education nature should not be less than two percent, where as music that is being aired out by the stations should not be less than 80 percent.
"Among other issues include content of sexual nature being broadcast from 10pm onwards ... at times programmes have been aired live without notifying viewers," said Mr Kyando.