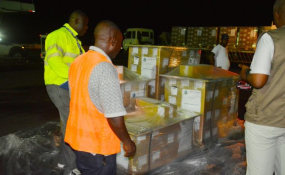 Photo: Liberian Observer
By Alloycious David
The Chairman of the National Elections Commission, Cllr. Jerome Korkoya says all preparations leading to the presidential and legislative elections are on course.
Cllr. Korkoya told a news conference Wednesday at the NEC headquarters in Sinkor that presidential ballot papers received on Saturday, September 27, 2017 have been transported to a secured location under tight security protection.
He disclosed that the second batch of ballot papers for the House of Representatives was expected to arrive in the country on September 28, 2017. It is not known whether the ballot papers of the representatives are already in Liberia.
The NEC Chairman indicated that there are 5,390 polling stations across the country. Cllr. Korkoya also disclosed that each polling station will receive a total of 550 presidential and representative ballot papers.
The NEC boss said UNMIL has agreed to airlift electoral materials to some counties including Gbarpolu, Lofa, Nimba, Grand Gedeh, Grand Kru, Maryland and River Gee.
He lauded the Government of Japan and United Nations Development Program (UNDP) for supporting the deployment of election security officers across the country.
According to him, the delivery of non-sensitive electoral materials would commence on Monday, October 2, 2017.
Meanwhile, NEC has announced that it is probing recent elections violence in Nimba and Montserrado counties.
There were reports of clashes between supporters of Coalition for Democratic Change (CDC) and Liberty Party (LP) in Sanniquellie, Nimba County.
Several persons reportedly sustained injuries during the fight which created fear among residents in Sanniquellie.
There were also reporters that supporters of two representative candidates in Montserrado County clashed in Paynesville.
Cllr. Korkoya told said the Commission has received a complaint from LP against the CDC, alleging campaign violence in Sanniquellie, Nimba County.
He said the Liberty Party's complaint has been forwarded to NEC's hearing office for investigation.
Cllr. Korkoya disclosed that another complaint of campaign violence was submitted to the commission by Bill Twehway, a candidate for the House of Representatives on the ticket of the CDC, against Ceebee Barshall, a representative candidate on UP's ticket.
Cllr. Korkoya is calling on all political parties and independent candidates in the 2017 elections to remain clear of violence during their campaigns.