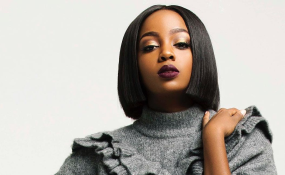 Photo: Thuso Mbedu/Instagram
By Socrates Mbamalu
South African actress Thuso Mbedu has been nominated for the 2017 International Emmy Award for the best performance by an actress. She is the only African nominated. Congratulations Thuso, the whole continent is rooting for you.
The 2017 International Emmy Awards Nominees is out and South Africa's Thuso Mbedu is on the list. Mbedu was nominated for the best performance by an actress category alongside three other actresses.
Mbedu was nominated for her role as Ipeleng on Mzansi Magic show Is'thunzi. Is'thunzi premiered in October 10, 2016 and has been a favourite show among its viewers. Is'thunzi is Mzansi Magic's first teen drama.
26 years old Mbedu in an interview with Channel24 said that playing the role of Ipeleng was one of the most challenging roles she ever did. "It was completely challenging and one of the best roles I have done. The character changes with the story and as an actress I had to push myself and execute that and make it believable," she said. Mbedu is the only African in the list of nominees.
Is'thunzi is set in the fast-paced world of South Africa's born-frees. It unpacked the complexities that teenagers are faced with from all walks of life and the choices they are forced to make on their journey to adulthood.
Mbedu said on her Facebook page, "So it's been brought to my attention that I've been nominated for the INTERNATIONAL EMMYS AWARDS which is kind of a BIG DEAL for me 😝🙈 I have to say my thank yous 🤸🏾‍♀️ I am here by the Grace of God! So before I say anything else : Thank you Jesus. I don't know how to put this into words. I've screamed, I've danced and jumped, I've prayed (and my vocabulary wouldn't rise to the occasion) and I've cried. I am so humbled".
Mbedu acknowledged her sister, her agent and Mzansi Magic, the channel that gave her her very first acting break.
Read: Kannywood actress Rahama Sadau expelled for "hugging and cuddling" male artist reacts to dismissal
Mbedu has been trending on social media since her nomination, with many South Africans and the continent rooting for her.
Pearl Thusi Went To America But Dololo Emmy Nomonation But Ninja Thuso Mbedu Was In SA But Received The Nomination .. pic.twitter.com/EWrmr76wxQ
- KAY B* (@HimThird) September 27, 2017
Incredible! Can we please take a moment to celebrate South Africa's Thuso Mbedu for her International Emmy nomination. Huge congrats! 🇿🇦🙌🏾❤️ pic.twitter.com/tJgKkdpeiE
- Ulrich J van Vuuren (@UlrichJvV) September 27, 2017
HOLUP! What did my God say? International Emmys Nominee? Mina? Vele?! #Isthunzi do you see what a beast of a production you are?!
THANK YOU pic.twitter.com/pTzlbpx6Te
- тнU§σ Mвє∂u (@ThusoMbedu) September 27, 2017