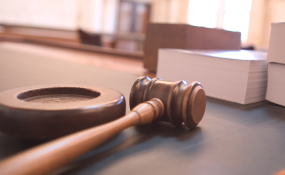 Photo: Joe Gratz/Flickr
By Shinovene Immanuel
Suspended Namibia Airports Company chief executive Tamer El-Kallawi is facing up to 36 charges of corruption, bribery, fraud and dishonesty.
Documents show that El-Kallawi's ally, NAC's engineering department boss, Courage Silombela, is also facing up to 15 charges of fraud, forgery, dishonesty and abuse of the airports company's property.
The two were not reachable for comment yesterday, but The Namibian understands the NAC board charged them for their role in the awarding of tenders worth over N$450 million.
A Deloitte forensic investigation report on NAC released in August 2017 confirms the suspicion of rife corruption at the parastatal that manages eight national airports.
The investigators also said former NAC board member Frieda Aluteni should face criminal charges for her previous role at the company.
The Namibian reported two weeks ago that El-Kallawi and Silombela could be charged with corruption.
The Deloitte report provides context on how El-Kallawi and Silombela operated.
One of the cases cited in the forensic report was about a February 2014 meeting between El-Kallawi and former engineering general manager Mwangi Wa-Kamau.
The two met at a restaurant outside the entrance to the Sanlam Centre Building in Windhoek, just across the Zoo Park along Independence Avenue.
Wa-Kamau gave the details of the meeting in a statement he made to the Anti-Corruption Commission (ACC) in April 2014 which was later obtained by Deloitte.
Wa-Kamau said El-Kallawi informed him that the tender to install surveillance cameras at Eros and Hosea Kutako airports had been awarded to Syntex Technologies.
He said he raised concerns with El-Kallawi that the NAC had awarded a N$15 million contract to Syntex whose bid was the highest.
"The acting chief executive (El-Kallawi) told me he would 'take care' of me (bribe) with N$500 000 for implementing the project," Wa-Kamau said.
He added: "In shock, I declined his 'offer' and left him at the restaurant."
Wa-Kamau was suspended in March 2014, a few weeks after the restaurant meeting.
The Namibian reported on the suspension in 2014 although there was no explanation given for it.
With Wa-Kamau out of the way, El-Kallawi played his next card - he invited NAC's executive for the strategic business unit, Norman Pule, to his office on 24 March 2014.
Pule informed the ACC that El-Kallawi told him during the meeting that "there was money to be made from the upcoming aviation security tenders".
Aviation security tenders, according to the Deloitte report, referred to scanner tenders worth over N$70 million.
Pule also said El-Kallawi asked him to lie to the ACC that Wa-Kamau, who was on suspension, is behind the corruption at NAC.
"In return for these false statements, El-Kallawi promised me the position of general manager: operations and engineering for the NAC," Pule said.
Pule declined El-Kallawi's offer because he is "not that type of person," the report said.
When Pule rejected the offer, El-Kallawi met Silombela, who was the NAC senior manager for maintenance and civil works in early 2014.
A few months after the meeting, Silombela was appointed the strategic executive for projects, information technology and engineering in 2014.
This made him the overall boss for the department and an easier link to top contracts such as airport renovations and scanner tenders.
Silombela told the ACC that El-Kallawi might have influenced his promotion as engineering boss.
He admitted to Deloitte investigators that El-Kallawi asked him to dig for dirt on the former engineering manager Wa-Kamau.
El-Kallawi wanted to use that information against Wa-Kamau during his disciplinary hearing, Silombela said.
Silombela said he promised El-Kallawi to look for dirt on his suspended colleague but found none.
The shifting of managers appears to have been a deliberate tactic to push through questionable tenders worth over N$450 million in the space of a few years.
The tenders in which the two and former board member Aluteni are implicated include the N$150 million contract to upgrade security systems at the Hosea Kutako International Airport and Eros Airport in Windhoek.
There is also the N$210 million Ondangwa Airport renovations, the N$70 million for scanners at airports and N$15 million for a surveillance cameras contract.
Most of the tenders were pushed through by El-Kallawi and Silombela via a tender board committee headed by Aluteni.
The Deloitte report appears to suggest that El-Kallawi deliberately looked away when Silombela pushed through questionable tenders.
CHARGED
The NAC board led by Rodgers Kauta slapped 36 charges on El-Kallawi for allegations of bribery, fraud, corruption, bribery, dishonesty and gross negligence.
"You are guilty of corruptly offering gratification to another person in that in or about February 2014, you offered Wa-Kamau N$500 000 as inducement or reward," said one of the charges against El-Kallawi.
Shilombela is charged with 15 counts that include fraud, forgery, corruption, bribery, gross negligence, dishonesty and abuse of NAC property.
"You are guilty of corruptly accepting or agreeing to accept a gratification from another person in 2014 to 2015.
"You accepted for the benefit of yourself a gratification from El- Kallawi, namely a promotion, as a reward for obtaining information that Mr El-Kallawi could use against Wa-Kamau," read one charge against Shilombela.
The Deloitte report suggested that the board obtains legal advice about taking legal action against these individuals for the losses suffered by the NAC.
That decision will largely be taken by the portfolio minister, in this case, works minister Alpheus !Naruseb.
The Confidenté newspaper reported last year that !Naruseb wanted Aluteni to take over as chairperson of the NAC board, but that move was blocked by public enterprises minister Leon Jooste.
The report also said the three officials should be reported to the ACC.
"Our findings reveal the commission of a number of serious offences by individuals such as El-Kallawi, Shilombela and Aluteni. Most of these offences, if not all, would resort under the mandate of the ACC," the report said.
Deloitte added: "We recommend that this report is made available to assist them in concluding their investigation into the criminal prosecution against the implicated parties".
The ACC has been sitting on this case since 2014.
Aluteni told The Namibian yesterday that she is aware of the ACC report, the charges against El-Kallawi and Shilombela and the proposal to drag her to court.
"Let them do what they deem fit. We will see each other in court," she said.
Aluteni is a sister to Knowledge Katti, a business speculator who has been linked to several airport deals.