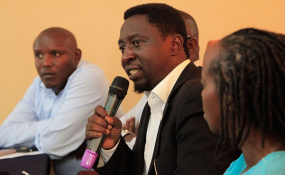 Photo: Sam Ngendahimana/New Times
By Robert Mbaraga
Rwanda Democratic Green Party (DGPR), the country's main opposition party, plans to challenge sections of the electoral law that restrict political parties from accepting foreign donations, ahead of the September 2018 parliamentary elections.
Party leader Frank Habineza said his party is working on a document that details shortcomings caused by electoral legal norms.
"We are concerned that we continue to have a law prohibiting political parties from soliciting funds from NGOs, church organisations and international donors," said Mr Habineza.
The 2013 law governing political organisations and politicians prohibits political organisations from accepting donations and bequests from foreigners, foreign business companies, industries and organisations involved in other activities or in which foreigners are shareholders.
The country's leadership argues that such donations and bequests are likely to undermine the independence and integrity of the country.
Technically, political parties can only raise funds from their supporters, local donors and the government.
The law further requires political parties to declare in writing to the Rwanda Governance Board, which is in charge of political parties, all donations and bequests received that have a value starting from Rwf1 million ($1,180) with a copy to the office of the Ombudsman.
"This is a serious limitation because many potential donors shy away from giving us money since they know we are supposed to declare it, indicating the donor, the type and value of donations," said Mr Habineza.
Another challenge, according to the Green Party is that a party can only get government funding after elections and if they score at least five per cent of the vote. The party says this is unfair and only favours larger parties including the ruling party.
Mr Habineza suggests that parties wishing to participate in an election be given funding beforehand.
In Tanzania, parties are not barred from raising funds using NGOs and religious organisation. They can equally receive donations from foreign organisations and individuals, which must be disclosed.
In Uganda, parties are not allowed to receive direct cash funding from foreigners and foreign organisation, but they can help parties organise trainings and capacity building efforts.
Additional reporting by Charles Mpagi and Christopher Kidanka