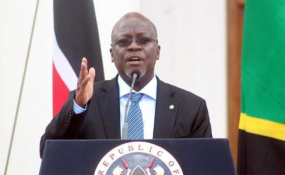 Photo: The Nation Media Group
By Christopher Kidanka
After decades of demands for a new constitution, in his New Year address in 2011, former Tanzanian president Jakaya Kikwete announced the formation of the Constitution Review Commission (CRC) to co-ordinate and supervise making the new laws.
Chaired by Judge Joseph Warioba, the CRC collected opinions and tabled its report, which some quarters found "too transformational." The commission was disbanded.
Key proposals included the possibility of the presidential election result being challenged in court; a federal government that recognises Tanganyika and Zanzibar as sovereign nations; and the power of citizens to impeach legislators who do not perform their duties effectively.
The process ended when the government failed to announce a referendum question according to the law before the deadline.
When President John Magufuli ascended to power, he said that a new Constitution was not on his list of priorities, sparking criticism and fresh calls for the process to be restarted.
Now, former CRC members Humphrey Polepole and Prof Palamagamba Kabudi, who supported the proposals which they said reflected the views of Tanzanians, are working in the government.
Mr Polepole was appointed CCM's Ideology and Publicity Secretary and Prof Kabudi is the Minister for Legal and Constitutional Affairs.
Their voices now echo the government of the day.
On Friday, the government banned local weekly tabloid Raia Mwema for 90 days for publishing an article titled "Uraisi Utamshinda John Magufuli" (John Magufuli's presidency doomed to fail).
Announcing the ban, director of Information Services Hassan Abbas said, "This tabloid has been warned repeatedly in the past."
The ban comes barely 10 days after another weekly tabloid, Mwanahalisi was banned for two years.
Under the Magufuli administration, Tanzania has witnessed a number of anti-democratic actions like the indefinite ban of political rallies, arbitrary arrests of legislators and members of the opposition, a ban on live coverage of parliament on claims of cost-cutting measures, and the crackdown on independent media and vocal critics of the government.
Some 400 leaders and members of the main opposition Chadema have been arrested, and a number of them tried for hate speech and sedition.
Political scientist Prof Mwesiga Baregu says the arrests already outnumber those witnessed during a mutiny attempt against founding president Julius Nyerere in 1984.
President Magufuli has been accused of interfering with the Judiciary and the Legislature.
In February 2016, he had told the Judiciary to fasttrack judgments of a tax evasion case in which the government would be awarded $441 million. If the court ruled in favour of the government, he would give the Judiciary $110,250,000 from that amount.
Arbitrary arrests of MPs in the parliament premises have been termed as interfering with the independence of the Legislature.
President Magufuli has also been quoted as telling the National Assembly Speaker Job Ndugai to make sure that he controls MPs inside the House so that they won't speak freely and openly, and that when the MPs do so outside Parliament he will deal with them.