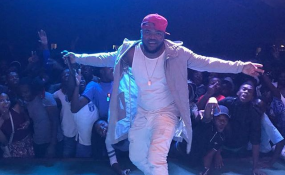 Photo: ExQ/Instagram
By Tafadzwa Zimoyo
They just don't call him 'Musalala' for nothing. Urban groover Enock Munhenga, better known by the moniker ExQ, put up polished at Shoko festival held at the Zimbabwe Museum of Human Sciences.
ExQ - who performed some of his yesteryear and latest hit songs like, 'Mazirudo', 'Maidei,' 'Rudo Rwemari', 'Ndichakutevera', 'Bhachura', 'Vanoreva Nhema' and 'Hauchambofona' among others - managed to drive the fans wild. However, the "Musalala" hitmaker's performance was cut short when he was performing his last song, which didn't go down well with jovial fans who were so confused on what was happening on stage.
He left hurriedly in the middle of the song, as Dj Tamuka had to finish it up for him. ExQ was paving way for Zimdancehall artiste Soul Jah Love who then disappointed the fans who were already on cloud nine as he failed to live up to expectations. Soul Jah Love performed his hit songs but it was apparent that it was the wrong crowd as a handful of fans had to dance to his songs while others just stood as if it was their first time watching him perform. The festival received mixed feelings as it had a low turnout during afternoon when there were some school performances, market hub, poetry and comedy among others.
Was it the case of ticket prices of $10 or people are still to understand the purpose of the festival? These questions were on everyone's lips especially on entrance. It is the festival's seventh year and they should have learnt from their mistakes. The climax of the show was the inaugural Zim hip-hop summit which proved worthwhile as at it lived up to its billing with high attendance from the hip-hop sector and stakeholders.
"Everything was on point as it was groundbreaking as artistes, musicians, producers, media and stakeholders coming together to discuss the development, confront each other on what needs to be done in the sector that can develop the sector. It united them, speaking to each other with respect, creating platforms for each other. It was an eye-opener and some of the discussions were tense but there was something to take home," said Zim hip-hop summit official Plot Mhako. Other artistes like Takura, Tinaye, Gonyeti, Gemma Griffiths, Cal Vin and Tripple D among others put up scintillating performances