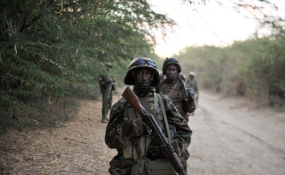 Photo: UN
Turkey is opening a military training camp in Somali capital Mogadishu on Saturday, 30th September, becoming Turkey's largest overseas base.
The camp built at Jazeera area, south of Mogadishu has been under construction for the past two years. The base will be used for the training of Somali armed forces.
The head of the Turkish military arrived in Somalia's capital Mogadishu on Friday.
Gen. Hulusi Akar was received by the commander of the Somali armed forces, Gen. Mohamed Ahmed Jim'ale, at Adan Abdulle international airport in Mogadishu.
Akar met with Somali President Mohamed Abdullahi Farmajo and Prime Minister, Hassan Ali Khaire.
Some 200 Turkish soldiers will be stationed at the base in Somalia, involved in training exercises. It is unclear whether the troops will be involved in any other conflict related mission.