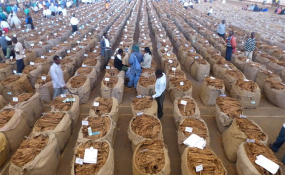 Photo: The Herald
By Miriam Mangwaya
Zimbabwe's land reform is not racist and serves citizens who adhere to Government policy, Lands and Rural Resettlement Minister Douglas Mombeshora has said.
Addressing various stakeholders in Chivhu last week, Minister Mombeshora said anyone could benefit from the programme.
He said the issue of land allocation, ownership and acquisition was a very sensitive one, which, when not addressed properly, could lead to bloodshed.
"Zimbabwe is not a racist country. This can be evidenced by a number of whites who are part of various Government structures.
"However, those whites, just like any other individual in this country, who are willing to own land, should stick to Government policy and there are no two ways about it.
"Government, through the Ministry of Lands, is working on addressing the irregularities in land ownership that occurred during the fast track land reform programme of 2000. All illegal settlers should be removed."
Minister Mombeshora, however, said Government would assist people who acquired land but did not have offer letters.
He said these would not lose their land while their papers were being processed.
He also reiterated Government's position against unauthorized land allocations which he said was a criminal offence.
"In some cases, some unscrupulous lands officers are asking bribes from land seekers," he said.
"That is not the thrust of the land reform programme. Land should be fairly distributed without any bribing."
Addressing the same meeting, Chikomba West legislator Cde Mike Bimha, who is also the Minister of Industry and Commerce, rapped corrupt land officers urging them to be diligent and avoid double allocation of land to individuals.
Acting Mashonaland East Provincial Administrator Clemence Masawi urged Chikomba residents to work in unity with the District Lands Committee to ensure that land is allocated procedurally.