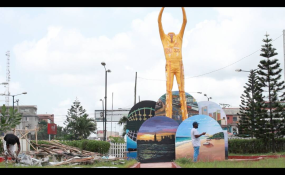 Photo: Vanguard
By Benjamin Njoku
Glenfiddich has been explaining why it's partnering the annual Felabration celebrations as the highly anticipated Felabration music night holds this Friday, at the Balmoral, Federal Palace hotel, Victoria Island, Lagos.
According to the world's best-selling single-malt whisky, 'Fela, embodies the key message of its campaign, as he proved to be a true maverick, leader, political activist, ambassador of culture and heritage, all in all, a true icon.'
The event is centered on the Glenfiddich Mavericks campaign, which aims to celebrate people who have made exceptional efforts to forge their own path, adopt unconventional creative thinking and have excelled in their own space. Four great performers; Femi Kuti, Seun Kuti, Bez and Nneka are lined up to deliver an unforgettable experience like never before.
Glenfiddich says it remains committed to celebrating those who boldly take risks and are unafraid to create their own path. Fela was one who took risks more often than not. He was harassed, chastised and even imprisoned. Still, those setbacks did not stop him from speaking the truth through his music which lives on and continues to inspire many. For this reason, Glenfiddich partnered Felabration to bring smiles to the faces of many as Fela and his music are remembered and celebrated. Glenfiddich recognizes this true icon and is pleased to bring together an array of talent, creativity and musical liberation.
The celebration, which attracts thousands of visitors from all the over the world, promises to be a truly remarkable event. With thrilling and electrifying performances, it will be an unforgettable night as these four mavericks who have all be influenced by Fela in one way or the other, will demonstrate the celebration of Glenfiddich's key values; ingenuity, purpose, charisma and mastery.