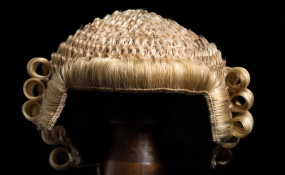 Photo: The Guardian
By John Chuks Azu
The National Judicial Council (NJC) has set up 15 committees to investigate various allegations against 15 Judicial Officers, including two Chief Judges.
In a statement by the Director of Information, Soji Oye yesterday, the NJC praised the decision of the Zamfara State Government approving the recommendation of the NJC for the compulsory removal of Justice Musa Ibrahim Anka from office for allegedly receiving a bribe of N200, 000 to deliver judgement in favour of one Zubairu Abdumalik.
Oye said the council took the decision after considering reports of the two Preliminary Complaints Assessment Committees, on 46 petitions written against Judicial Officers in the Federal and State Judiciaries.
He said the NJC also dismissed a total of 31 petitions, 29 of which it found unmeritorious, and the remaining two written against Justice J. T. Tsoho of the Federal High Court and Justice O. O. Akeredolu, Acting Chief Judge of Ondo State were withdrawn at the instance of the petitioners: Al Sagr National Insurance Company and Chief Raheem A. Badmus respectively.
Oye said the council also considered worthy of further investigation, the petition by Azi A. Phillip on behalf of All Farmers Association of Nigeria (AFAN), Plateau State Chapter against Justice P. D. Damulak, the immediate past Chief Judge of Plateau State, whom he accused of bias for failure to make available his judgment in Suit No. PLD/J/236/16 delivered on 4th November, 2016.
He said the NJC dismissed petitions against Justice Mr. L. T. C. Eruba, High Court of Justice, Abia State; and Grand Kadi Abdullahi Waiya, Shari'ah Court of Appeal, Kano State for lack of merit. He said the NJC decided to write two letters of advice to Justice M. A. Dada of the Lagos State High Court of Justice and Justice Chukwudi Charles Okaa of the Anambra State High Court over petitions written against their Lordships by Dayo Adamolekun, Esq. & Ridwanulah Olanite, Esq. and Reverend F. U. Ekavhiare & Associates respectively.
He said the Council agreed "to report Adesina Ogunlana, Esq., to the Legal Practitioners Disciplinary Committee (L.P.D.C.) for misconduct, for the use of uncouth language in a petition written to the NJC against Justice O. O. Atilade, the immediate past Chief Judge of Lagos State."