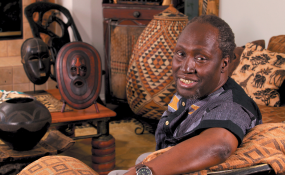 Photo: Ngugi Wa Thiong'o/Facebook
By Socrates Mbamalu
Celebrated Kenyan writer Ngugi wa Thiong'o has been tipped to win the Nobel Prize in Literature this year at the odds of 4/1. Last year the Nobel Prize committee awarded the Nobel Prize in Literature to Bob Dylan, leaving many shocked. We are rooting for Ngugi wa Thiong'o to win the coveted Nobel Prize for literature. Could this be Ngugi's year to win the award?
The period of the Nobel Prize in Literature is upon us again and speculations have started on who would win or miss out. Last year, everyone got a shocker when Bob Dylan, an American musician was awarded the Nobel Prize.
Dylan was awarded the Nobel "for having created new poetic expressions within the great American song tradition." The news of Dylan's win as opposed to either Japanese writer Haruki Murakami or Kenya's Ngũgĩ wa Thiong'o left a lot of questions on the lips of literary enthusiasts and critics.
Wole Soyinka, a former recipient of the Nobel Prize in Literature in response to Dylan's win said, "Since I've written quite a number of songs for my plays, I would like to be nominated for a Grammy."
Two UK sports betting giants Ladbrokes and NicerOdds have the Nobel Prize and Man Booker Prize as part of their online offerings. Ladbrokes placed Ngũgĩ at the odds of 4/1 to win, Haruki Murakami 5/1 and Margaret Atwood 6/1.
NicerOdds also placed Ngũgĩ on the highest odds, followed by Murakami and Atwood. Other writers tipped for the award are Don Delilo, Joyce Carol Oates, Philip Roth and Salman Rushdie, Kamau Braithwaite ,among many others.
Ngũgĩ's first book, Weep Not, Child (Heinemann, 1964), was the first English-language novel published by an east African writer. Upon the release of his third novel, A Grain of Wheat (Heinemann, 1967), Thiong'o renounced Christianity and began publishing in Gikuyu, his native language. He has since written essays, novels, short stories, plays and children's books, and held teaching positions at Yale and New York University.
Ngũgĩ has overtime called for the decolonisation of the African mind. His emphasis has always been on the use of African languages in classrooms and also in communication. Early this year Ngũgĩ gave a public lecture at the Witwatersrand University in South Africa titled "Secure the Base, Decolonise the mind." The university's 1000 plus hall was filled to capacity.
Ngũgĩ's latest book is his memoir titled Birth of a Dreamweaver. Last year Ngũgĩ was viewed as a favourite to win the Nobel Prize. We hope this year the Nobel Prize in Literature goes to the renowned African writer. We are rooting for Ngugi wa Thiong'o to win the Nobel Prize for literature.