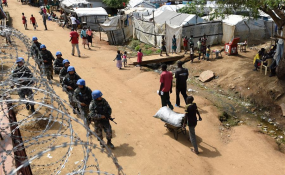 Photo: Li Baishun/Xinhua
By Joseph Oduha
Juba — South Sudanese President Salva Kiir has promised to scale up investment in health sector countrywide. President Kiir said an improved health sector would curb the number of mostly government officials and rich individuals seeking treatment abroad.
He made the remark on Saturday while inaugurating the modernisation and expansion of the Juba Teaching Hospital. President Kiir ordered the Health and Finance ministers to scale up training of medical workers to ensure the provision of better services.
"We need to make quality healthcare services available to all the people of South Sudan.
Absence of peace
"With the modernisation and expansion of the country's public main hospital (Juba Teaching Hospital), along with all the infrastructural development projects, the landscape of health system will completely change for the people who have been deprived of quality services," President Kiir said.
He described access to quality health service as a basic human right for the people of South Sudan, a country whose medical care system has been rated the worst in the world. The Chinese envoy to South Sudan, Mr He Xiangdong, urged President Kiir to restore peace and stability first.
"No development can take place in the absence of peace and stability and no peace can be sustained without development," the Chinese envoy said.