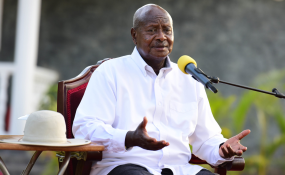 Photo: The Daily Observer
By Derrick Wandera
National Super Alliance (Nasa) co-principal and former vice president of Kenya Dr Stephen Kalonzo Musyoka said that he wants Yoweri Museveni to become East Africa's first president after he leaves power. "After Ugandans have stopped torturing mzee, Museveni should become East Africa's first President. We all know that Africa is moving towards integration and what will unite us is having one president," said Mr Musyoka.
Speaking at a the graduation ceremony of Uganda Technology and Management University (UTAMU) over which he presided as Chancellor, Mr Musyoka hailed Museveni for the passion he has for East Africa and the region as a whole. "Museveni is one very passionate African leader. We have seen him fight for peace through peace negotiations in Rwanda DRC, Central African Republic, Somalia, Kenya and most recently South Sudan," he said.
Mr Musyoka together with his friend and colleague Senator Moses Wetangula had been blocked from leaving Kenya for Kampala, at Jomo Kenyatta International Airport.
According to a statement he shared on social media, Musyoka said, "the authorities disclose that henceforth Hon Musyoka and I (Raila Odinga), the NASA candidate would need clearance from state house before leaving the country." At the graduation, he called upon the graduates to be more of job makers than job seekers and encouraged them to read hard and aim for higher positions.
Quoting former South African President Nelson Mandela, Mr Musyoka said, "As Nelson Mandela said, education is the most powerful weapon which you can use to change the world. Education is the key to reducing poverty, to preventing needless deaths and illness and fostering peace."
Prof Benon Basheka, Vice Chancellor of UTAMU said at least 284 students graduated, 175 of them in business and management studies sand 58 in the school of computing and management.
"We have kept growing over time. In 2015 we graduated 80 students, in 2016 they were 194 and this year the number is 284. This shows the growth we have had over time," Mr Basheka said.