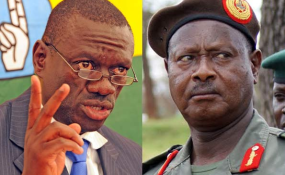 Photo: Daily Monitor
By Damali Mukhaye
Former Forum for Democratic Change presidential candidate Dr Kizza Besigye says the campaign against President Museveni's leadership will not stop until he is gone.
"Mr Museveni will go. It may take a while but he will eventually be stopped. People think this is a 'Besigye' thing. It's not and it has never been. Even during 'Walk to Work', I was just an activist," Besigye said on Tuesday while addressing journalists at his home in Kasangati, Wakiso District.
According to him, the age limit campaign is about the will of Ugandans and not just the Constitution as a document.
"This is not about the Constitution as a document. It is about the will of the people. Don't touch the will of the people," he added.
He also urged Ugandans, especially the elite class to leave their cars at home once every week to show solidarity with those opposed to lifting the presidential age limit of 75.
"Stop moving with your private vehicles on Tuesday and other actions will roll out until the regime surrenders," he said.
The commander Kampala Metropolitan Police, Mr Frank Mwesigwa, on Monday said they have learnt about plans by Dr Besigye and other Opposition politicians to protest the proposed removal of the presidential age limit from the Constitution.
Mr Mwesigwa vowed to deploy at all strategic places to ensure no one leads a procession.
"We shall not allow any procession and as security, we are prepared. We have [intelligence] of what they want to do, what they have termed the red ribbon campaign, which is like walk to work reloaded and we all know the dangers of walk to work, including threat to life and property. We shall not allow this," Mr Mwesigwa said.
However, Dr Besigye reiterated that his campaign is not about walking to work like many said.