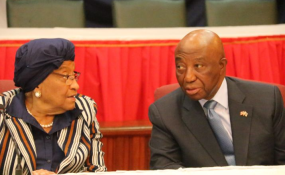 Photo: Liberian Government
Gbarnga — The standard bearer of the Liberia Restoration Party (LRP), Ambassador Macdella Cooper, says President Ellen Johnson-Sirleaf recent statement on generational change is a clear endorsement for her presidency.
In an exclusive interview, the LRP standard-bearer said she admires the reaction of the women across the country toward her being the only female candidate in the race.
"I'm standing between two generations, those who are ageing out and those who are coming in. I also understand the struggle of the young people and while ageing out, there must be a benefit for everyone to relax on through pension," she asserted.
Amb. Cooper added that she cares a lot about the young people and also cares about the ageing ones as there are lots of people who are in the street because there are no jobs or opportunities for them to go to school, no money and no one to care for them.
She further disclosed that for too long women have been suppressed across the country.
"President Sirleaf's recent statement is a clear endorsement for me because I'm the youngest in the race, and I'm the one who is going to bring that generational change; I am the one with the idea, the innovation and the vision to move the country from its dying bed to the 21st century," she added.
Amb. Cooper said that President Sirleaf had done what she was elected to do for the country at a critical crossroad and she still managed to maintain the peace and now that we have peace, it is about time that we focus on development.
She said her government will build an economy that will take care of the people and will not accept unqualified people only because they are her relatives or friends but will accept qualified people because Liberia belongs to everyone and not her relatives or friends only.
Amb. Cooper said if elected as President, if anyone steals or messes up, that person will be out of government and be dealt with according to the laws governing the country.
Amb. Cooper added that no one will be given special privilege if caught stealing national resources because they are her relatives or friends. She also said that there will be no recycling of government officials.
The only female candidate in the 2017 Presidential Election averred that her decision to contest the elections is due to the fact that she wants to give Liberians the kind of lives they deserve by distributing the natural resources equally.
Madam Cooper then urged everyone to remain peaceful by making the right decision as the country is about to have one of its most crucial elections on October 10 this year.