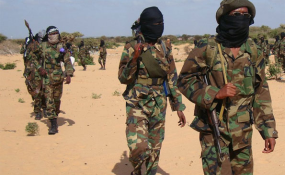 Photo: Daily Monitor
Al Shabaab has claimed to kill at least 2 Somali government soldiers in a fresh attack on an army checkpoint near the southern town of Afgoye, about 30Km northwest of Mogadishu.
In a statement posted on its affiliated websites, the militants said they launched an ambush against Somali troops manning a checkpoint on the outskirts of Afgoye.
The attack has sparked hours-long gunfight ensued between the militants and Somali National Army (SNA) soldiers, which claimed the lives of several people, including civilians.
Al Shabaab said it seized a motorcycle and a large amount of cash during the attack.