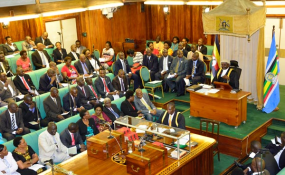 Photo: Dominic Bukenya/Monitor
By Raymond Tamale
The controversial Constitution Amendment Bill targeting to remove age limitations on the presidency and open the Constitution for President Yoweri Museveni to stand again in 2021 went through the first reading in parliament on Tuesday during a sitting of only the ruling National Resistance Movement (NRM) MPs.
It was then forwarded to the Committee on Legal and Parliamentary Affairs, where it will be threshed and shaped.
The sponsor, Raphael Magyezi, a backbencher and MP for Igara, read the Bill to the House after about half the opposition MPs withdrew from the House last week protesting the suspension of their colleagues in last Wednesday's sitting characterised by punch-ups and chaos that left broken microphones and chairs in its wake.
In what may be the fastest movement of a Bill, especially one presented by a private member, the Magyezi Bill has so far moved four critical steps in less than a week--from seeking leave of Parliament to table a motion for its presentation last Wednesday to being gazetted by Friday and now its first reading and quick referral to the committee stage.
In between, the Bill received a certificate of financial implication--an area where many find difficulty.
Its quick progress may also spell doom for other private member Bills to amend various other parts of the Constitution. Some of the sponsors of these other Bills are a part of the group suspended from the House last week.
Critics say President Museveni's government has used an iron hand in removing every possible challenge to its progress.
Seventeen MPs have recorded statements with the police and are apparently being sought for seeking bond in connection with last week's fracas. At least four MPs are hospitalised after they were injured.
Police is also investigating the motive and source of explosives thrown at houses of at least three anti-amendment MPs including Kyadondo South's Robert Sentamu Kyagulanyi aka Bobi Wine and Allan Ssewanyana of Makindye West and Moses Kasibante of Lubaga North.
The MPs claim the attacks were part of efforts to intimidate them to stop opposing the Bill.
Police also raided offices of at least three civil society organisations it accuses of funding activities against the Bill.
The Uhuru Institute based in Naguru near Kampala was the latest to be raided on Monday after raids previously on Great Lakes Institute for Strategic Studies (GliSS) and ActionAid International (Uganda).
A call for public protests symbolised by wearing red bandanas and resumption of Walk to Work protests called by, among other people, former presidential candidate Dr Kizza Besigye failed to wash after police deployed heavily to thwart it.
Mr Museveni, 73, has been in power since 1986 after a five-year guerrilla war. He promised fundamental changes and condemned leaders who stay in power for too long - which described as Africa's problem.
Critics say Mr Museveni has become the embodiment of that very problem unwilling to exit the stage 35 years later after his current term expires.
Mr Museveni has largely skirted the controversy and tried to avoid showing a direct interest in the manouvers in Parliament and elsewhere in the country to keep him longer in power after 2021.
He was attending the United Nations General Assembly when the motion was presented. During the chaos last week, the President was in Brussles leading a delegation of East African Ministers to negotiate the Economic Partnership Agreement at the EU headquarters.
He resumed countrywide radio mobilisation promoting another controversial amendment to give powers to government to take over land for development projects. Responding to a caller on the age limit debate, President Museveni said the opposition members will not be allowed to "disorganise the country."