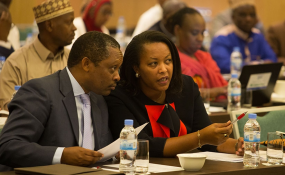 Photo: Timothy Kisambira/New Times
By Athan Tashobya
Methodeand Mary Kamanzi have eight children; three are their biological, two adopted and three are foster children.
The foster children will be taken care of until they are old enough to lead own lives.
Mary says her family is not financially well-off but believes that "irrespective of financial status of a home, a child is better off growing in a family setup than living on street or in orphanage."
And this, she says, has inspired their passion to give the once-wandering kids a "home to thrive" from.
In 2012, government moved to phase out orphanages in the country and rather encourage for the children in such facilities to be absorbed into families either through fostering or adoption.
The spirit was similar to that of the Kamanzi family; that a child will grow well both in character and stature while in a family set-up than in an orphanage.
To implement the phase-out, the National Commission for Children was tasked with overseeing the successful reintegration of children, creation of a system of alternative care and the transition towards a stronger child protection system.
At least 2,294 out of 3,323 children (who were previously living in orphanages) have been reintegrated into foster families since the inception of the programme dubbed, "Tubarere Mu Muryango."
But cases of child labour, drug abuse, and domestic violence still pose a major challenge to the national child protection agenda, according to Isaac Munyakazi, the state minister for primary and secondary education.
"We must admit that we (leaders and the general public) have failed our values. But I believe we can still do something to change the course of the story," he said.
Infringement on child rights
In a consultative meeting that brought together clerics and officials from various ministries, participants decried the persistent infringement of child rights that has led to an influx of street children, drug abuse, defilement, human trafficking, and early pregnancies, among others.
All these cases, the stakeholders believe, have their roots in families, which is why the meeting sought to discuss the role of religion in family development.
Since statistics show that over 90 per cent of Rwandans believe in God and subscribe to a religious denomination, government believes that once all clerics join forces, they will play a significant role in bringing down the number of such cases.
PEACE Plan, the umbrella organisation of Christian Churches in Rwanda, has already initiated the Family and Orphan Care initiative aimed at rallying churchgoers towards the cause.
At the meeting yesterday, the Minister for Gender and Family Promotion, Esperance Nyirasafari, acknowledged that clerics have done a lot but more could be achieved with deliberate efforts to promote child protection and family values.
"The Government sought the support of faith-based organisations at a time when there was a need to foster unity and reconciliation among Rwandans and religious organisations did a good job. I believe that since the majority of Rwandans belong to a certain religion, clerics can still play a big role in pushing for child protection or promote violence-free families," she said.
She said most children end up on streets because of violence in their families.
"We call upon religious leaders to encourage believers to embrace the culture of fostering as well as preaching about peace and love in homes," she said.
Prof. Anastase Shyaka, the chief executive of Rwanda Governance Board, said that faith-based organisations can play a greater role in pushing for more ethical society founded on cohesive families.
Mary Kamanzi said building strong families would be the best solution to the challenges faced in communities.
"I think the street children issue is as a result of children who run away from dysfunctional families. So building a strong family would make a child want to stay home," she said.
Though financial stability is a need to any human being, Kamanzi said being financially stable does not guarantee family stability.
"Poverty is a problem that can be overcome with a bit of education, hard work and change of mindset. Poverty is not what produces dysfunctional families because we see some rich homes that are struggling to survive or even give their children the best environment to grow," she said.