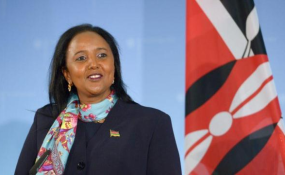 Photo: Daily News
By Valentine Obara
Foreign Affairs Cabinet Secretary Amina Mohamed has been appointed as one of the advisors to United Nations General Assembly President Miroslav Lajčák.
In a list of 15 advisors, Ms Mohamed is among the only two Africans, alongside Guinea Bissau's Carlos Lopes.
However, the UN said the list of advisors may be expanded at a later date.
While reacting to the appointment, the CS said it proves Kenya's commitment to progressing universally binding values that are enshrined in the United Nations charter.
"This appointment is therefore an honour to our people whose commitment and respect for these values guides our mandate in the public service," she said in a statement Tuesday.
MEDIATION
A statement from the UN headquarters said the role of the advisors will be to advise Mr Lajčák on the best ways to advance his priorities for United Nations General Assembly's 72nd session.
"Those priorities include mediation, conflict prevention and sustaining peace; migration; implementation of the Sustainable Development Goals and Paris Agreement on climate change; human rights and human dignity; and the future and reform of the United Nations," it stated.
The team of advisors is expected to meet in New York this Friday with an agenda of discussing global political issues, major international challenges among other matters concerning the General Assembly.
Ms Mohamed called on the team to work towards a common goal of striving for peace and delivering a decent life for all.
"Each one of us, through this role, is a vital part of our future and that of our children," she said.