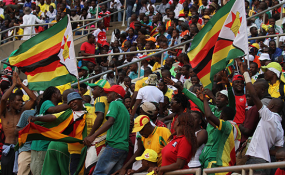 Photo: newzimbabwe
Brazilian football legend and former Barcelona player Rivaldo landed in Harare on Monday for a two day visit.
Rivaldo's full name is Vitor Borba Ferra.
Addressing journalists at a short media briefing in Harare Monday, Acting permanent secretary in the Sports Ministry Benson Dube said the visit by the legend is part of the Ministry's policy guidelines on the promotion of 'sports diplomacy' and 'sports tourism' for the benefit of the nation.
Rivaldo is expected to take part in a match that will be played during the FIFA free week in the first week of November.
"Rivaldo is coming as part of the promotion of a match to be played by Zimbabwe Warriors versus Barcelona legends." Dube told journalists.
"Already Rayco Garcia who will be doing the necessary arrangements is already in the country."
He added, "He is also expected to pay a courtesy call to the senior government officials."
"So, locals must brace themselves for an exciting football extravaganza that will feature the likes of Ronaldinho, Frank De Boer, Carles Puyol, current Manchester City coach Guardiola and former Cameroon national team captain Samuel Eto just to mention a few."
The visi by Rivaldo follows that of Dutch and Barcelona football greats Edgar Davids, Patrick Kluivert and Rayco Garcia who also made a surprise appearance at the 6th Presidential Youth Rally in Gwanda in August.
Explaining why the three attended the ruling party youth rally sports Minister Hlongwane said the three had made a request to meet President Robert Mugabe.
One of the most skilful and creative players of his generation, Rivaldo was renowned for his bending free kicks, overheard kicks and ability to both create and score goals.
In 1999, he won the Ballon d'Or and was named FIFA World Player of the year.
He is an inductee to the Brazilian Football Museum Hall of Fame.