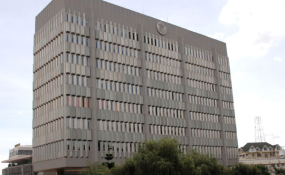 Photo: Daily Monitor
By Martin Luther Oketch
Kampala — Bank of Uganda (BoU) yesterday took another big step towards revamping the country's economic and private sector credit growth rate by reducing the Central Bank Rate (CBR) from 10 to 9.5 per cent.
This is the lowest CBR [policy] rate that BoU has decided on since it implemented its current monetary policy on July 4, 2011 that targets stabilisation of the market using short term interest rates.
While presenting the monetary policy statement for October, the central bank Governor, Mr Emmanuel Tumusiime-Mutebile, said: "Given that the annual inflation forecast is to remain around the medium-term target of 5 per cent and economic activity is slowly gaining momentum, a cautious easing of monetary policy is warranted to boost private sector credit growth and to strengthen the economic growth momentum."
The latest quarterly Gross Domestic Product (GDP) data released by Uganda Bureau of Statistics at the end of September indicates Uganda's economic growth rate recovered in the second half of Financial Year 2016/17 with quarterly growth rate of only 0.6 per cent and 1.1 per cent being recorded in the first two quarters of the 2016/17 fiscal year, mainly because of bad weather that affected the agricultural sector.
However, recent statistics show that the growth rates accelerated to 1.8 per cent and 1.9 per cent in the third and fourth quarters of the same financial year respectively.
Despite pick-up in economic growth in the last two quarters of 2016/17, the growth in the private sector credit remained sluggish in the same period.
The economy is being projected to grow at annual rate of 5.0 to 5.5 per cent in the Financial Year 2017/18, which, Mr Mutebile said is lower than estimates of potential GDP growth for Uganda.
In the medium term, the economic growth is being projected that it will accelerate to 6 or 6.5 per cent.
Mr Mutebile said the outlook continues to be supported by accommodative monetary policy, improvement in public management and an improvement in the global economy.
Giving insights on the inflation outlook, Mr Mutebile said BoU forecast indicates that inflation outlook remains unchanged since the last Monetary Policy Committee meeting in August 2017, with the annual core inflation forecast remaining within the target range of 5 per cent over the short term.
He said the upside risks to the inflation remains muted, with the exception of the possibility of higher food prices due to crop pests affecting the agricultural sector and severe rains in some parts of the country.