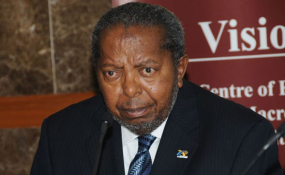 Photo: The Monitor
By Bernard Busuulwa
Uganda's central bank has cut its benchmark policy rate by 0.5 per cent to 9.5 per cent in its bid to boost private sector credit growth and strengthen the economy.
This is the lowest key lending rate decision since 2011 when the Bank of Uganda (BoU) began implementing a monetary policy stance targeting inflation.
"Over the past one year, we have seen some improvements in key economic indicators," BoU's executive director for research Dr Adam Mugume said, adding that private sector credit growth has recovered to 5.8 per cent in the last quarter ending August this year.
Government data shows that economic growth rates of 0.6 per cent and 1.1 per cent were registered in the first two quarters of financial year 2016/17, partly because of bad weather that affected the agricultural sector. But growth rates rose to 1.8 per cent and 1.9 per cent in the third and fourth quarters respectively.
The growth in private sector credit however remains sluggish caused by huge non-performing loans which have forced the banks scale back on lending.
"We feel it is necessary to force banks to avail more credit [to the private sector] under a lower policy rate environment and depressed economic growth levels," Dr Mugume said.
BoU forecasts the economy to expand at between 5 to 5.5 per cent in the 2017/18 financial year, which, it says, is a bit lower than estimates of potential GDP growth.
"Economic growth is however projected to accelerate to between 6 and 6.5 per cent over the medium-term," BoU said.
Uganda's overall inflation rose to 5.3 per cent in September from 5.2 per cent in August.
The central bank projects inflation to remain within the target range of 5 per cent over the short to medium-term.