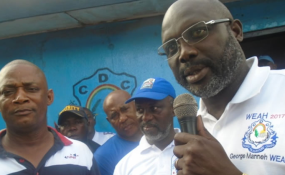 Photo: FrontPage Africa
The Standard Bearer of the Coalition for Democratic Change (CDC), Ambassador George Weah has embarked on his final campaign trail in which he assured his supporters and Liberians in the Borough of New Kru Town that he is ready to liberate Liberians from hardship.
"I don't want to be president to make news, I have made news already, I came to politics because of you, to liberate you, this is time for you to step up for the cause of change, this is why I am travelling from countries to countries to tell the world that we need peaceful, transparent, free and fair elections," Weah said.
Weah had gone to the Borough in continuation of his campaign for the presidency of Liberia.
The CDC strongman assured hundreds of supporters that the only way New Ku Town will fall from CDC except he is not the landlord and has not live there.
The Montserrado County Senator urged residents of district #16 not to vote for Representative Edward Forh, who has been the people's lawmaker since 2006.
He added that Forh defied the people after they spoke at the primary that they no longer have confidence in him to represent them, but rather ignoring them, but to join another party.
"Honorable Forh who has disrespected you after he was told at the primary that it was time for him to rest; I heard he says he will score hat-trick in this district, but sometime scoring three or four goals in a game can be less important to the team and the people, but a single goal can make a team be declared champion and the single goal is Dixon Seboe, this policy maker will make the difference in your district," Weah campaigned.
He however urged all CDCians, sympathizers, well-wishers to vote him and vote all of the candidates on the ticket of the CDC as to have a balance House of Representatives.
Weah visited four districts in Montserrado County including, #4, #8, #16 and #17 with the message of providing better living condition, better health system, better education system, creating job opportunities and a good road network among others.
The Liberian politician added that change is inevitable and can only be materialized when Liberians go to the polls on October 10, 2017 to elect him as president and all candidates on the party's ticket.
Senator Weah said the entire country including Lofa County, the home of the Standard Bearer of the Unity Party, is ready for the Change because they have produced a Vice President for 12 years without impact.