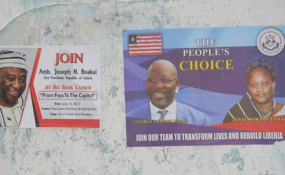 Photo: FrontPage Africa
The clock is ticking and the decisive moment is finally here for Liberia's much momentously anticipated 2017 Presidential and Representative elections. The critical nature of these elections cannot be over-emphasized as the world's attention would be turned to Africa's first independent republic, Liberia.
It is going to be a defining moment for the country to show its true picture to the world either as an emerging bastion of democracy or otherwise. As a nation that has been an exemplar of history making in the world, the conduct of peaceful, free, fair, transparent and credible elections will help to transform or deform the country's image among the comity of nations by setting the nation on the path of recovery and economic development or retrogression. Absolutely, the latter is not an option!
Undoubtedly, the pending elections are one of the most important, if not the most important elections ever to be held in the 170 years of Liberia's existence. The assertion is factual for several reasons. Firstly, it is the first time a democratically elected president of Liberia, in this case, the historic first democratically elected female president of Liberia and Africa, would be turning over the helm of tasty power to another individual through the ballot box.
Thanks to Madam Ellen Johnson Sirleaf for mustering the courage to respect the organic law of the country, the Constitution to step down after her legitimate tenure expires. At least this has confuted political pundits' initially hoisted 'red flag' that she may emulate the shameful and insupportable example of some power greedy African politicians bent on political manoeuvrings by amending their countries' constitutions to suit their political aggrandizement after a U-turn on her initial vow to the Liberian people to serve for a single term if elected. But this was later found to be a political fustian.
Secondly, the elections are very vital because they are going to determine whether gains made over the years through concerted efforts of all Liberians and international partners will be maintained or not. Obviously, much has been invested and sacrificed in Liberia to get it to its current trajectory after 14-years of brutal civil conflict, which destroyed thousands of precious lives and properties. From maintaining years of peace and civil liberties to some economic recovery, these elections have the propensity to write and direct the next chapter of the Liberian destiny. Thus, every Liberian must fervidly greet and embrace this electoral process with all unpretending valor and mighty fists. Reaching its peak on Tuesday, October 10, 2017, the decision on this single day must mean the whole world to all patriotic and peace-loving Liberians at home and abroad. It is going to decide what happens in the epochs proceeding, from months to years, from years to decades and from decades to a century or even beyond.
The purpose of this article, therefore, is to sturdily underscore the critical nature of these elections and how vital the expected outcome about who leads Liberia at this critical point in the nation's history informs our destiny as a country and people. It is also meant to proffer some suggestions in support of peaceful, free, fair, transparent and credible elections and appeal to the Liberian people to conduct themselves above reproach during and after these decisive polls.
From years away to months and now a few days to go, the highly awaited 2017 elections have always been on the minds of the Liberian people. From those who have aspirations to contest for political leadership to the deciders (electorates), the elections have been the talk of the town, surpassing every other critical issue that confronts Liberia and its citizenry. Consequently, the country is faced with an existential and fundamental question, particularly about who becomes the next president of Liberia after the Sirleaf era.
Till today and perhaps until the final whistle is dogmatically blown by the National Elections Commission, this resounding question will remain unabated on the lips of Liberians. Whatever the case may be the time has arrived and this life-assurance decision is ours and it must be made. Let it be quickly pointed out that we, as Liberians, must make an extremely smart and wise decision because our future and the future of our unborn generation are strongly and inseparably tied to it. In other words, the decision we make on October 10 is exceedingly critical to the extent that it transcends beyond the current generation of Liberians.
This means that this echelon decision must be void of selfish interests to avoid monstrous consequences. Rather, the polls must be approached with true patriotism and nationalism, knowing fully well that the decision being made is absolutely crucial to our survivability as a nation and people, especially in the present dispensation when other countries are making great strides with regards to their socio-economic and sustainable development. For this reason, we must expect nothing less than the best corps of leaders to guide and direct our beloved nation, particularly for the nation's highest seat, the presidency. Such individuals are ought to be well-schooled, experienced and patriotic and must possess impeccable character and energies to lead Liberia to the higher heights.
Retrospectively, when one thoroughly looks at the 2005 and 2011 decisions that brought and maintained the Unity Party government in power, the true relevance of the pending one day vote becomes vividly understandable that these elections will decide the destiny of the current and future generations.
For instance, from the 2005 polls to present, some children who were born by then are now at junior high school level (grades 7-9), while those who were concluding high school education are by now pursuing postgraduate education (master's or PhD) or beyond, to name a few. This is basically meant to demonstrate the vitality of the pending vote and its ramifications on the entire population in the years ahead whether Liberia moves forward or backward. Obviously, backward never; forward ever! But this must come with the price of exercising our constitutionally given political franchise in a violent free manner and be prepared and ready to accept the outcome thereof.
Emphatically, the Sirleaf administration may be phasing out and the new administration expected to step in this January, 2018, but whatever unfolded under the 12-year rule of her government whether good or bad will still have inordinate impact on the new administration and the Liberian people in general whether directly or indirectly.
Therefore, all eligible and registered voters in the pending turning point elections and even those who are ineligible due to one reason or the other must use deep lens to view these elections as present and futuristic verdict for the born and unborn generations of Liberians. Simply put it, they are 'no play thing'; they must be considered with all manner of meticulousness because these elections are equated to a seed sowing expedition for all Liberians, which will yield the kind of life and country we wish to live in from mid-January, 2018 to the years ahead based on the type of president and representatives we are going to put in charge of propelling our destiny.
It is worth noting that the democratic system of governance is recognized by many around the world as the best because it enables citizens to have some freedom, ranging from exercising political franchise appertaining who should lead them to holding their leaders accountable. Without flicking the other side of the coin, it is a constitutional responsibility that must be exercised responsibly and maturely as anything on the contrary will not augur well for the country and its people. It is, therefore, inevitable that this legitimate right be manifested into a decision that keeps the country on the right trajectory of peace and economic transformation.
However, in a country that is despondently engrossed with huge illiteracy, poverty and other vices among its citizenry, making much informed decision void of being manipulated by contestants seems challenging. But thanks to the Almighty God for the wisdom being bestowed upon our many voters to not dance to the political chicaneries of candidates. This is evidenced by the fact that many contestants have been intensely penalized through the ballot box in the previous elections, sending out a robust signal that the country is not prepared for business as usual and that there is no room for unpatriotic leaders in Liberia.
Already as provided for under the electoral laws for candidates to canvass for votes, the campaign streams leading to the polls have been politically charged. Nonetheless, it is laudable thus far regarding how well the campaigns have been conducted though there have been some pockets of anti-democratic encounters. It is fervently hoped that things will continue to get better during and after the polls.
Obviously, electorates are going to make this life-assurance decision on October 10, presumably predicated upon the political manifestos of candidates. But most importantly, it is anticipated that the decision will be informed by past records of service and sacrifice made for Liberia because oftentimes political promises yield little or no fruits. In other words, mere promises contained in political platforms are not sufficient for any individual to be entrusted with state power or a representative post.
As Confucius once says "I am obliged not only to give ear to what they (people) say, but also to keep an eye on what they do", Liberians are strongly encouraged to graciously scrutinize the past accounts of candidates as the basis for their decision. Intuitively, power is not a changer of an individual to be more patriotic or service oriented to the state. In fact, it sometimes intoxicates the individual. In a nutshell, power must not be given to anyone based on mere sugar-coated promises.
Undeniably, both contenders and electorates have a critical role to play to guarantee the success of the soon to be held elections in Liberia. However, the role of politicians is highly pivotal as they are the main drivers of the electoral process. Therefore, it is prudent for political players to be moderate, tolerant, respectful, and above all, put the interest of the nation above selves for the sake of moving Liberia forward, doing away with trading of abhorrence messages, fracas, contestations and other inimical acts before, during and after the polls when the final results are announced.
In other words, it is expedient for political actors to stop hanging on whims and caprices and gullibility of some Liberians for self-glorification. As Liberians, we must be very cautious as we head to the polls, not allowing politicians to manipulate us for whatsoever reason as the decision we make now will be the determinant of Liberia's future--a Liberia we would love to live in. Hence, it strongly behoves every Liberian to use this electoral moment as the finest time to demonstrate to our globalizing world Liberia's unflinching commitment to democracy, civility and peace.
One of the interesting aspects of the current polls for the top seat is that there is a fair political playing field where any of the candidates has equal chance of emerging as president of Liberia. It is anticipated that the Sirleaf-led government will remain vigilant and unbiased in ensuring that the elections are peaceful, free, fair, transparent and credible as this is key to maintaining a vibrant legacy. Besides, it is beneficial for President Sirleaf to ensure that some devious individuals, particularly those in her government do not tend to use this defining epoch of the electoral process or democratic transition to abuse public trust by squandering the country's highly scare resources as atonement for being given the privilege to serve the motherland.
The action the President takes to compel compliance void of whom is involved will determine a better finish line. In the strongest term, every peace loving Liberian must resist such devilish move from every fabric of the Liberian society. This is essential because there must be a better pathway created for the next government to pick from and run with the nation's recovery drives.
In conclusion, Liberia is at the cross-road and the pending elections are a key determinant of the road we will trend after the polls. In support of peaceful, free, fair, transparent and credible elections, all Liberians at home and abroad must see the polls as a salient opportunity to transform the country's image among the comity of nations as a new fortress of democracy in Africa and one that is ready to continue on an unrelenting path of recovery and economic development. This will safeguard the high earned investments and sacrifices made in getting the nation on the present path and it will help in determining our future and the future of the unborn generation of Liberians. Fellow Liberians, our decision in these momentous 2017 elections ardently constitutes our destiny. Consequently, let's treat these historic elections with all manner of patriotism in whatever way necessary in the interest of peace and tranquillity for the betterment of our beloved country, Liberia. May God grant us best leaders and pr
eserve our nation for the better. Long live democratic tenets, long live the Republic of Liberia.
About the author: Charles Gbollie is a PhD candidate at Central China Normal University, Wuhan City, China. He holds Master's degree in Education (Hons) with specificity in Developmental & Educational Psychology. He also holds BA degree in Sociology from AME University and has several certificates to his credit. He has over 8 years of work experience.