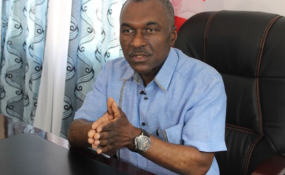 Photo: Liberian Observer
The Alternative National Congress (ANC), and its standard bearer, Mr. Alexander B. Cummings, in accordance with National Electoral Commission (NEC) regulations, received approval to hold its closing campaign rally at the Antoinette Tubman Stadium on Saturday, October 7th. A public announcement was made over two weeks ago to ensure that ANC partisans would be able to convene freely and peacefully.
Yesterday, the Unity Party (UP) Campaign Chairman, Augustine Ngafuan, declared that the UP would hold a "victory rally" the same day, 7 October, which according to electoral rules, is prohibited. Further, it claims that the rally will be at Samuel K. Doe (SKD) stadium, a facility denied to other parties.
To protect its right to freely compete in the country's 2017 elections, the ANC is officially lodging a complaint before the NEC, and with all international observers and international missions, accusing the ruling party of exerting undue influence on the electoral process to deny other parties the right to freely associate and to get their message out.
Further, the ANC believes that this effort will create tensions amongst partisans, which the UP is seeking to exploit for its own purpose. This comes after the UP has manipulated state media resources, denying access state-sponsored radio and TV station (ELBC) to other parties. We hereby protest the suppression of legitimate political expression in Liberia, and call on all parties to honor the Code of Conduct, the Farmington River Declaration, and NEC standard procedures.
This desperate act by UP is further evidence that they are running away from true political competition, just like their standard bearer, Vice President Boakai, ran away from Mr. Cummings in the second presidential debate.