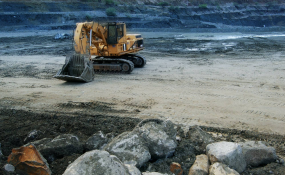 Photo: Petra Diamonds
By Victor Kiprop
Petra Diamonds is set to resume selling and exporting minerals from its Williamson mine in Tanzania that the company shut down about three weeks ago amid an export valuation dispute with the Tanzania government.
In a statement issued by the company, Petra said it is finalising the timing and process for the next diamond shipment to its marketing office in Antwerp, Belgium, and subsequent sales.
The announcement gives a new lease of life to the struggling miner that is battling to stay afloat in Tanzania's mining industry where there has been a crackdown on companies by President John Magufuli's administration.
However the firm is yet to reach a deal with the government on a controversial diamond shipment that was blocked by authorities from going to Antwerp earlier this month.
"A resolution has not yet been reached with regards to the parcel of 71,654.45 carats from Williamson that was blocked for export. The company will provide an update on this as soon as practicable," Petra said in its statement.
Seized gems
The Tanzanian government seized the diamonds on August 31 at the Julius Nyerere International Airport in Dar es Salaam and began investigations into "certain key personnel" claiming that the minerals had been massively under-declared.
"While Williamson Diamonds declared in its documentation that the value of the Diamonds was $14.798 million, a fresh valuation done by the government established the actual value of diamonds is $29.5 million," said a statement by the Tanzania's Ministry of Finance and Planning.
Petra denied the claims, saying that the Tanzanian government "has complete oversight over the diamonds produced at the mine which are physically controlled by a number of different government representatives in conjunction with Petra from the point of recovery until the point of sale".
In early September President Magufuli called for a review of Petra's contract, and asked senior public officials to resign after a parliamentary probe into the country's mining sector indicated that there were "gross irregularities" in the dilution of the government's shareholding in the Williamson mine.
Two senior officials, a minister and a deputy minister were implicated in the report, and they resigned to pave way for investigations.
The Williamson mine accounted for 18 per cent of Petra's revenues in 2016. The mine is 75 per cent Petra-owned, while the Tanzanian government owns the remaining 25 per cent.