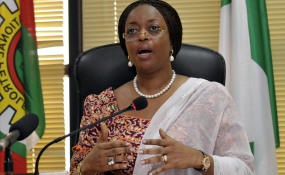 Photo: Premium Times
By Isiaka Wakili
The Federal Government has insisted that a former Minister of Petroleum Resources, Diezani Alison-Madueke, must face corruption charges in the United Kingdom.
Asked if Diezani would get free hearing at home, Malami responded:
"Well, the issue is not about fair hearing now, we are talking about investigation first and is not within Mrs Diezani Allison-Madueke power to ask the federal government to bring her to testify in any case in Nigeria."
The Attorney-General of the Federation and Minister of Justice, Abubakar, stated this on Wednesday while addressing Hausa service correspondents of the State House after the Federal Executive Council meeting presided over by President Muhammadu Buhari.
Diezani had Tuesday urged the Federal High Court in Lagos to compel Malami to bring her back to Nigeria from the UK where she travelled to shortly after leaving office in May 2015.
But the Attorney-General said there was no need to bring the former minister to Nigeria since the British government was already investigating her, stressing that the Federal Government would not take any decision that would jeopardize that investigation.
"Mrs Diezani Allison-Madueke is facing charges of money laundering and acquisition of properties in United Kingdom. So, it is important to face the charges there than for her to come as a mere witness in a case in Nigeria," he said.
According to Malami: "The truth of the matter is that the government is doing something especially on issues of corruption and litigation in Nigeria and outside the country.
"Considering the fact that there is an existing understanding between Nigeria and other countries, especially the United Kingdom on the recovery of stolen funds, so you cannot say government is not doing anything.
"Steps have been taken by the United Kingdom authorities on issues bothering on corrupt practices involving Nigerians. If Nigeria feels strongly that there is need to bring Mrs Diezani Allison-Madueke here to face charges of corruption, government will not hesitate to do that.
"As things are now, there is no need for that since the U.K. government is already investigating her on...and government will not take any decision that will jeopardize what the U.K. government is doing."