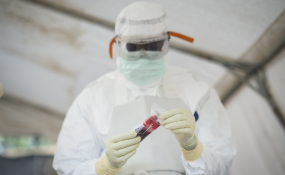 Photo: MSF
By Judd-Leonard Okafor
Public health authorities across West Africa are considering stronger agreements to help the region better share data and transfer materials in efforts to strengthen the region's ability to prevent and coordinate response to public health emergencies.
It comes amidst lessons the region has learnt in the wake of the 2014 outbreak of Ebola virus disease which hit hardest in Guinea, Liberia and Sierra Leone, and smaller epidemics of cholera, meningitis and Lassa Fever in Nigeria.
The ECOWAS Regional Centre for Disease Surveillance and Control, hosted by the Nigeria Centre for Disease Control (NCDC) met with consultants from Chatham House in Abuja on Tuesday to consider agreements in data sharing and material transfer among public health institutes across the region to shore up preparedness and response to emergencies.
"You build those relationships before the emergency," said Ann Marie Kimball, a Chatham House consultant.
"It is the best sense of prevention, to begin the conversation, bring those communities together and establish that communication."
In the wake of Ebola, the new leadership of NCDC maintains weekly epidemiology reports on its website, with updates on infectious diseases under watch. It is also working to share information with state-level public health authorities.
Nigeria hosts a field epidemiology programme and sent epidemiologists for the first time to the worst-hit countries to help contain the Ebola outbreak, but NCDC chief executive Chikwe Ihekweazu said the response was only "reactive."
"What we are trying to do is built trust and be proactive. We often look to partners to support what we are doing but actually there's a lot of capacity in West Africa that can be shared."
In addition to field epidemiology training in Nigeria, Dakar and Abidjan have laboratories that could support diagnostics.
"But to do this, we have to trust each other, and to trust each other, we have to have a governance framework within which to work," said Ihekweazu at a press briefing after the meeting.
"Information saves lives, but for it to save lives, you have to trust in order to share, and by sharing early, you are able to prevent," Ihekweazu emphasised.
"What we have learnt from Ebola: the earlier you share information with a trusted network, the quicker colleagues are able to act on that information and put measures in place that will ultimately save lives."
David Harper, consultant at Chatham (the Royal Institute for International Affairs) said movement of resources and manpower is part of activities around the "trusted network".
"As long as the quality of information and the data is known and is communicated properly so people don't misunderstand what the message means, then it can be shared in a timely way," said Harper.
"In an emergency situation, particularly, that's of vital importance. Information too late is not useful information."