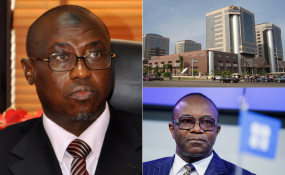 Photo: allafrica.com
By Daniel Adugbo
The office of the Group Managing Director of the Nigeria National Petroleum Corporation (NNPC) has not responded to allegations raised against its boss by Minister of State for Petroleum Resources Dr. Ibe Kachikwu.
Kachikwu had in a letter dated August 30 and addressed to President Muhammadu Buhari accused Dr. Maikanti Baru of "insubordination and humiliating conducts."
Baru was also petitioned for making appointments, postings as well as awarding contracts worth $25 billion without the minister or NNPC board approvals.
More than 24 hours since the letter was confirmed by the ministry and the allegations became public knowledge the NNPC has insisted that it could not comment on the issues because the letter was not addressed to it.
"The letter was addressed to the president. We can only comment on a letter we have sighted because it was not addressed to us," the Group General Manager, Group Public Affairs Division of the NNPC, NduUghamadu, simply said when asked to respond on behalf of the GMD.
Meanwhile, the Independent Petroleum Marketers Association of Nigeria (IPMAN) whose members own the highest fuel distribution outlets across the country said it considered the accusation by the minister against Baru as "very ridiculous".
IPMAN described the minister's leaked letter to the president as another attempt to divert public attention from the successes achieved in the already sanitized sector.
In a statement on Wednesday signed by its National Secretary, Danladi Garba Pasali, the group called on president Buhari to disregard any attempt to scuttle the achievements in the downstream oil sector.
Pasali in the statement said, "As his position as chairman of NNPC board, the minister should have resolved any internal issue at the board meeting, not to resort to media war."
"We are not surprised that Dr. Baru was accused of insubordination by the minister because if the GMD has allowed himself to become an errand boy to the minister just as some of the past GMDs did, he wouldn't have been accused of such," the statement added.
"Part of the reforms that Dr. Baru's team are executing which became a nightmare to some stakeholders like the minister and some labour unions, include the efficiency in petroleum products supply, appointing technocrats into right positions and sanitizing the imports of petroleum products which stabilizes the fuel supply in the country within the last two years," IPMAN said.
"We hereby reiterate our support to the GMD and his team especially, the current Managing Director of the Nigerian Petroleum Marketing Company, Alhaji Umar Aliyu for the good work they have been doing and call on his Excellency to disregard any attempt to scuttle the achievements in the downstream oil sector especially now that some politicians will resort to sabotage as the election year is approaching."