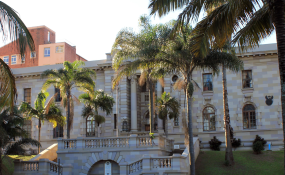 Photo: MengaZa/Wikipedia
The State wants a traditional healer who "influenced" four Durban teenagers to procure him a head of an Indian woman to be sentenced to life imprisonment.
State prosecutor Cheryl Naidu on Wednesday submitted that Sibonakaliso Mbili - the traditional healer - had promised the group - who were all teenagers at the time - benefits once they procured the head for him.
"He provided them with traditional medicine in continuing with the plans to secure the head. He made them believe they'll be protected from police and the law during the commission of the offence. He promised that they'll be paid a large sum of money knowing their financial backgrounds," Naidu said at the High Court in Durban on Wednesday.
He had promised to pay them R2m for the head, the court heard.
Mbili, 34, Jimmy Stanley Thelejala, Mlungisi Ndlovu and Mbali Magwala are expected to be sentenced later on Wednesday for the murder of Desiree Murugan, 39, who was stabbed 197 times and beheaded on August 17, 2014.
One of the teenagers, Falakhe Khumalo, had pleaded guilty to Murugan's murder in 2014 in the Durban Magistrate's Court and is currently serving a life sentence.
'The murder was going to happen'
Murugan's body was found at the Shallcross sports field near Chatsworth in Durban, where she was from. Her head was found buried at Mbili's home in Mfume, KwaZulu-Natal south coast.
The court heard that Mbili had chopped the head into pieces and placed it in different tins before burying them at his home.
"This was beyond heinous," Naidu said.
Naidu said after Mbili's arrest in 2014, he was detained in the same holding cells as the others.
"He told them that bad things would happen to them if they spoke about his involvement in the matter," she said.
There are no compelling or substantial circumstances that can force the court to deviate from a sentence of life imprisonment, Naidu said.
Naidu submitted that Thelejala, Ndlovu and Magwala should not be sentenced to less than 20 years in jail "considering the nature of crime they committed" and the fact that they were all under age when they committed the offence.
The court heard that during the night of Murugan's murder, the three of them had smoked whoonga, dagga and had been drinking.
"With or without those drugs the murder was going to happen," Naidu submitted.
They had planned to secure the head, a year before they murdered Murugan, Naidu said.
Source: News24