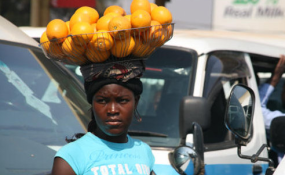 Photo: Brian Moonga
By Mudangha Kolyangha
Pallisa — Police in Pallisa District are holding a man on allegations that he tortured his son to death for reportedly eating one of his oranges.
The Bukedi police spokesperson, Mr Sowali Kamulya told this reporter on Wednesday that James Opio, a resident of Kachinga Orwaka village, Agule sub-county tortured his son Stephen Okurut, 13, and pupil at Nyaguo primary school after learning that he eaten one of his oranges.
"He hit the child to death after he got information that he had eaten his orange," Mr Kamulya, said.
Mr Kamulya said Opio is currently detained at Pallisa central police station over murder charges.
"As police, we strongly condemn such means of administering justice to suspects. This is totally unacceptable and this man will have to face the law accordingly," Mr Kamulya, said.
Mr Robert Otema, the councilor for Okunguro parish in Agule Sub-County described the incident as barbaric, saying they never expected such a thing to happen.
"It's unfortunate and regrettable. We are so touched because it's not normal to murder your own child over an orange," he said, adding that it's quite shocking and unbelievable.